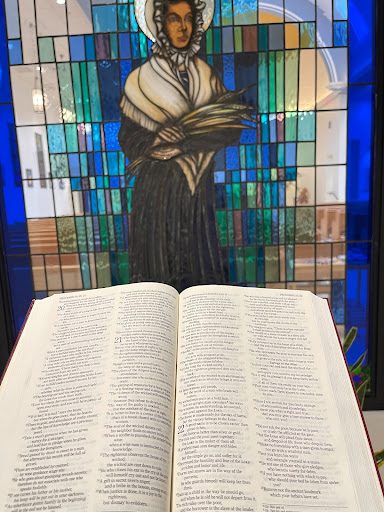 Yulianna Gomez/XPress Picture
According to a Gallup survey taken in 2020, church attendance in the United States has, for the first time ever, fallen below the majority with a mere 47% of Americans attending.
Despite this alarming statistic, a study conducted by Marist College Poll concluded that 54% of Americans believe in a biblical God.
Why is there a 7% disparity between those who claim themselves as believers and those who actually attend church, especially during the times of a pandemic?
A regular church attendee, junior America Sanchez has seen the drop in attendance at her own church. She thinks people have stopped going to church due to work and many other priorities they put first other than God. 
"It's understandable that many people need money for food, home, to pay bills, etc, but in reality many people are starting to distance themselves from God. Once they see that money or their job are more important than God they start to have an addiction which then leads them to not going to church," she believes.
Post-pandemic life has now made internet sources a popular way of remote worship. With online resources people do not feel inclined to physically go to church.
There are many social reasons as to why one should go to church: Meeting and socializing with people, carrying on a tradition and being part of a community.
But we often forget the most important reason as to why attending church is so important. If we desire to grow in communion with God we have to physically and purposefully go to church and be in God's presence.
Father Nathaniel Glenn, chaplain at Xavier College Prep, offers a useful analogy for understanding this backwards notion.
"It's like saying I love my mom, but if I never go see her and don't show up for the important events, I probably don't love my mom as much as I say that I do."
Many people declare themselves as "spiritual" and say they can worship God in different ways from home. However, if we do not physically go to see God in person, if we think it too bothersome to go to church, our actions prove that our words or our thoughts are not as true as we say they are.
As Catholics, our place of worship is a church. However, readers of all different backgrounds should attend whatever place of worship that aligns with their religions, as the spiritual benefits of being an active participant in God's church are crucial.