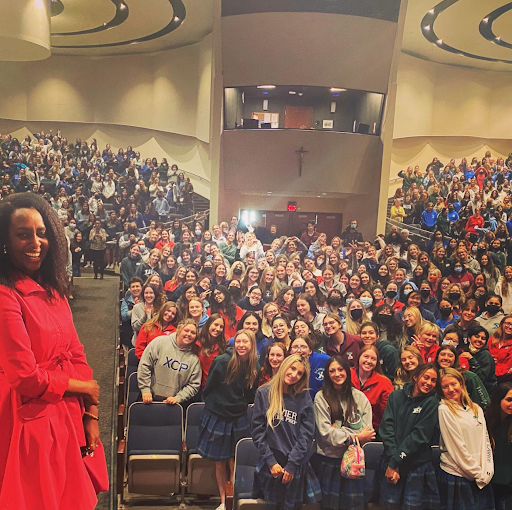 @ilibagizaimmaculee via Instagram
The We Are Xavier Club (WAX), a force of change and unification in the Xavier community, hosted its first-ever WAX Day on Monday, March 7.
"The mission of the We Are Xavier Club is to communicate, educate, and celebrate our diverse Xavier community," said Lila Mago '22, executive WAX officer and club president. "For WAX Day, we really wanted to focus on the communication and education aspects of our mission by bringing in a speaker whose story might have been previously unfamiliar to the student body, and to give students the chance to reflect." 
The club invited Immaculée Ilibagiza, a Rwandan author and motivational speaker, to talk to the community and answer students' questions. 
"Because we are a Catholic school, for our first WAX Day, we wanted to kick it off with a Catholic theme, which we [students] could all connect to whether we practice the religion or not," said Alexandra Lopez Jimenez, WAX club moderator.
Ilibagiza's acclaimed autobiography, "Left to Tell: Discovering God Amidst the Rwandan Holocaust," tells the story of her survival amidst the Rwandan genocide in 1994. The book emphasizes the importance of faith, humanity and forgiveness. 
After the assassination of the Hutu president in April of 1994, violence erupted across the nation of Rwanda, leading to mass genocide and massacre. Ilibagiza's father sent her to seek shelter at a pastor's home, where she spent 91 days hidden in a three-by-four foot bathroom with seven other women. 
Despite the darkness she faced, Ilibagiza found peace in God. Through praying the rosary and reading the Bible, she escaped from the anger and fear that surrounded her. 
When she was freed from hiding, she discovered the true brutality of the genocide. She had lost one million of her community members including her entire family, except for a brother who was abroad.
She eventually immigrated to the United States where she later joined the United Nations and was encouraged to write her story. Her story has become an inspiration to millions around the world who are empowered by her strength, courage and fortitude. 
"She embodies the message that we are all one in God, despite our different backgrounds, and that we should love and celebrate each other for our distinct identities," Mago said. 
Although Ilibagiza only spoke to the Xavier body for one day, students and teachers prepared for her arrival throughout March. The book, "Left to Tell," was assigned as an all-school read and  theology teachers incorporated it into their classes.
Gavin Ahern, junior theology teacher, required students to read and take quizzes on the material. He explained that the book discussed key points from the "Human Nature" unit of his course curriculum. "One of the big points is that we're all equal in the image of God; no one can be more human than another," Ahern said. 
WAX Day began with a presentation by Ilibagiza. She discussed her story and her book, emphasizing the power of faith and trust in times of darkness. After her presentation, students had the opportunity to participate in the sacrament of Reconciliation. The club provided the student body with lunch and dessert, as well as an opportunity to personally meet and have books signed by Ilibagiza. The day concluded with a question-and-answer session run by WAX Club's student officers in which Ilibagiza answered questions submitted by Xavier students.
"She's a role model for us," said Ahern. "God makes crooked lines straight, and even though this terrible thing happened and God in no way delighted in those terrible things, He can still bring good from it."
The club hopes to continue WAX Day in the future. Lopez Jimenez states that they are already looking for potential speakers for the 2022-2023 school year and the club is looking forward to creating a new tradition at Xavier.
"I hope that after this experience, more students are inclined to come and join WAX. We would love to see you there!" Mago said.