"Ready all, row!"
One Xavier student gets a behind-the-scenes look at a crew team training session.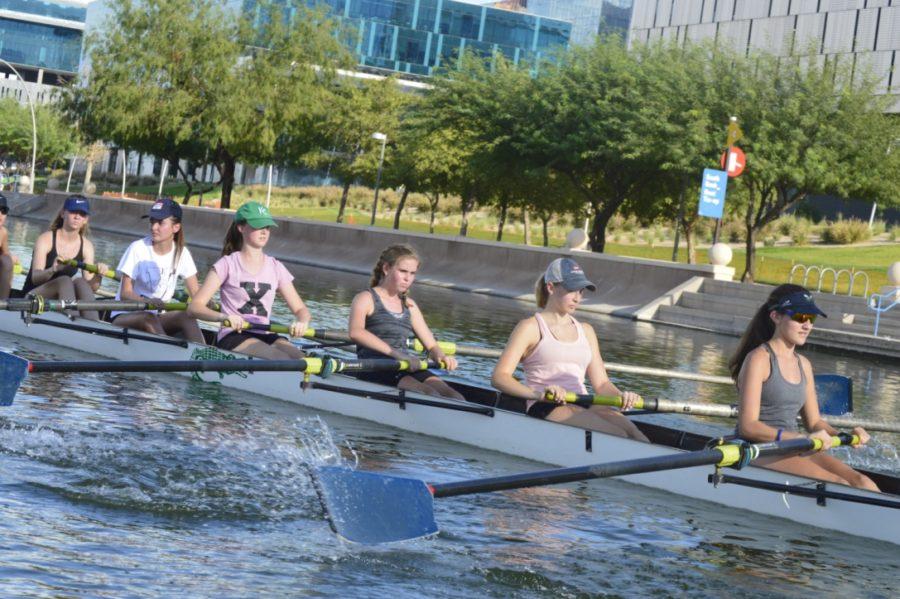 If you ask an average high school student to recall some of their most memorable moments from their four years at Xavier, you might hear things about football games, parties, and hanging out with their friends after school.
As for the varsity athletes on the Xavier Prep Crew team, most of their memories have been made in a boat with their best friends, at one of their daily after school practices.
It's not exactly an 'average' high school experience, but these super-star athletes are certainly not average.
So how does one get into crew, you ask? Well, that's what I wanted to know as well. So I headed down to Tempe Town Lake, home of Xavier Prep Crew's boathouse, where all their practices are held. I asked a few Varsity rowers some questions about the unique sport.
For the team's only senior, Brooke Elford, the phrase "this team is a family" has a much more literal meaning.
"Well, my sister's the coach…so that's how I got started," Elford said when asked how she got into rowing. "But the second I came to my first practice, I absolutely knew that it was where I was supposed to be. Everyone here motivates you to be the best you can be, and I think that's how I really fell in love with the sport," she explained.
Shannon Elford, the head coach of Xavier Prep Crew, is a twenty-one-year-old student at Arizona State University, where she will be graduating from in December. She began her position as head coach in the fall of last year, after being assistant coach for about a year and a half. Over the past year, she's done a remarkable job of coaching and constantly helping the girls improve.
The team dealt with a couple setbacks over the course of last season (including the draining of Tempe Town Lake, which left them without water for about 3 months), but they didn't let anything get in the way of their goals. They ended the season by taking three boats to Scholastic Nationals in Zanesville, Ohio. Two of the boats made it to the semi-finals, while junior Dominique Jablonski and Brooke Elford got third place in finals.
Before ended my visit, I talked to sophomore Maddie Wickers about rowing in the Olympics. When asked if she had been watching crew in the Olympics, Wickers nodded excitedly. "Yes! It's my favorite event to watch. The U.S. women's team is especially inspiring to me."
Wickers admits to often daydreaming about one day rowing in the Olympics herself. "I can definitely picture myself doing that. I mean obviously it's a huge goal, but I really love the sport and anything is possible if you work hard enough."
It seems that hard work is a principle that has been drilled intensely into these girl's heads, and I could definitely see it paying off on the water. I wish Xavier Prep Crew a successful and exciting season and cannot wait to hear about their achievements this year now that they are back on the water!