Diocese to Open New Catholic High School in West Valley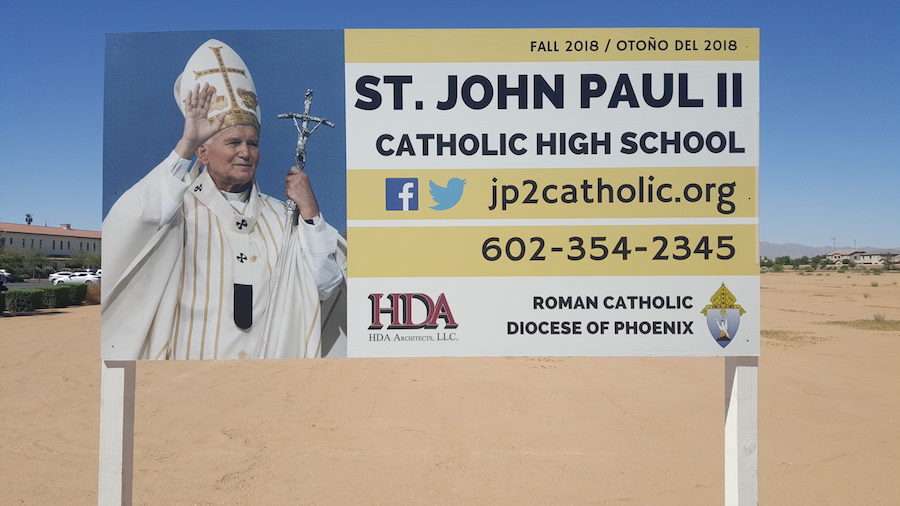 Opening in fall of 2018, St. John Paul II High School will be added to the six existing Catholic high schools in the Diocese of Phoenix.
This will be the first Catholic high school in the West Valley. Recent feasibility studies have shown that there is a great demand for the high school. St. John Paul II will be built near St. Thomas Aquinas' property in Avondale. The two major feeder schools will be St. Thomas Aquinas and St. John Vianney. However, many families whose children did not attend Catholic middle schools, or attended various other private institutions, will also be present at the new high school.
Bishop Olmstead reached out to the St. Cecilia Dominican sisters headquartered in Nashville, Tennessee to be the head faculty at JPII. This order is known for its great educators and even has experience opening Catholic high schools across the nation. The sisters accepted this invitation and some have already arrived in Arizona to begin their ministry. Sr. Mary Jordan Hoover, O.P. has been named the principal for the new high school. She brought two of her colleagues with her, Sr. Mary Gertrude Blankenhagen, O.P. and Sr. Mary Brigid Burnham, O.P.. Sr. Mary Gertrude is currently working as a theology teacher at St. John Vianney and will transition with the students in two years onto St. John Paul II High School. Sr. Mary Brigid is assisting Sr. Jordan in the planning phases of the new high school.
On April 5, 2016, there was a ground "blessing" ceremony to commemorate this historic development. Bishop Olmstead blessed the grounds, while representatives from across the Diocese came to participate. Construction is scheduled to begin in early 2017 so that classes can begin in the fall of 2018.
The Diocesan Superintendent of Schools, Mary Beth Mueller, along with the Bishop, stated that they want to make sure that "Catholic Education is available, affordable and accessible" to anybody who feels called to be involved in it. Catholic education is a vital part in the development of young adults, so it is wonderful to see an extension of the Diocese coming to the West Valley.
The Diocese is ecstatic to have another high school for many reasons. Interactions with the existing high schools will create a new dynamic for the Diocese; including a new competitor for sports, fellow students to compare high school experiences with, and new members to welcome into the Diocese. Saint John Paul II high school is highly anticipated.