Girls Have IT Day introduces new conference format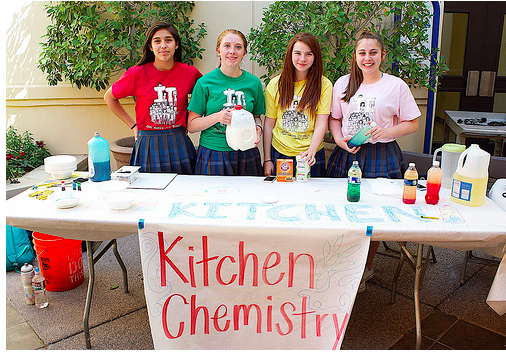 Girls Have IT Day is an anticipated event for Xavier students and faculty, but more importantly it is an event looked forward to by more than 500 middle school girls.
According to Xavier's GHITD website, "Girls Have IT Day is an event for middle school girls to become engaged and excited about Science, Technology, Engineering, Art and Math (STEAM)!" Girls from all across the Valley get excited to come to Xavier and share their love for STEAM.
This year Girls Have IT Day will be held on March 10 from 1 p.m to 3 p.m.
Mrs. Catherine Wyman and Mrs. Frances McMahon Ward are the leaders and co-creators for the GHITD club and event. They started it in 2009 because "the news about gender equity in the STEAM fields was abysmal. Girls are interested in these fields but 'culture' seems to tell them that they should stick to 'basket weaving'. It was time to take a stand for the girls who have STEAM dreams." Wyman and Ward are passionate about exposing girls to technology and always do a great job organizing the event.  
GHITD 2017 will be using a new "conference" format this year. In previous years, the Xavier students who volunteered to run an activity stood behind their booths, which were lined outside of Vestar Hall. Although this was a great format for years, GHITD has grown to be so large that more space was needed. Even last year booths were expanded into Vestar and the Activity Center.
With the middle school girls in mind, Wyman and Ward thought of a new format to create maximum organization and benefit for the girls. Ward said, "We responded to the feedback from the last few years asking for a 'deeper dive' into the hands on STEAM activities and we think establishing Girls Have IT Day Conference is a great change."
Instead of being outside, the activity tables will all be inside Founders Hall this year. This is a more contained (and cool) environment, which should help the success of the activities.
The conference format will give more focus to a few, detailed activities. There will be three longer activities, called "sessions," in which the leaders demonstrate hands-on projects. Aside from the new sessions, which will rotate every fifteen minutes, the new format will also include "exploration locations." These are regular booths that include two minute activities for the girls to come around and partake in.
Xavier students, faculty and staff are very excited for Girls Have IT Day 2017. Ward said that her and Wyman hope the middle school girls who come to GHITD become "encouraged about their own interests in these areas. We want to fan the flames of their own desires. We want to validate their goals and we hope for an 'I can do it' sort of outcome."
The new format is sure to be a success, just like the previous years have been: inspirational for girls passionate about STEAM.