Xavier Spiritline triumphs at nationals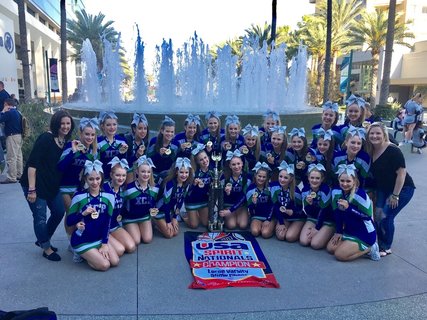 Hang on for a minute...we're trying to find some more stories you might like.
On March 24 through the 26, Xavier Spiritline competed in the 2017 USA Spirit Nationals Competition at the Anaheim Convention Center in Anaheim, California. The team did an amazing job with cheer placing first, becoming national champions, and pom placing second.
The cheer team competed against six other teams from states such as Virginia and Utah for the national title in Large Varsity Show Cheer Advanced. The pom team placed runner-up for Large Varsity Song/Pom Advanced. There were three teams, including Xavier, competing in that division and Chaparral High School in Scottsdale, Arizona achieved first place.
Senior Anita Dorsey, who has been on the cheer team since sophomore year and loves cheering at the Brophy football games, said that winning state "was a huge accomplishment and it felt amazing, because we put in so many long, hard hours of practice" and going to nationals "was exciting this year because I knew we had a good shot at winning." On winning nationals, Dorsey commented that the experience was "so surreal because Xavier hadn't won nationals in many years and it was the best way to end my senior year."
Besides nationals, Xavier Spiritline had an overall great season. The girls won most of their competitions, such as both cheer and pom placing first in the Desert Southwest Regional on December 3. On January 14th, the cheer team won the 2017 AIA Division 1 Cheer State Champions at Gilbert High School. Pom placed ninth, and both were able to advance to nationals in Anaheim.
A total of 39 girls, 26 on cheer and 13 on pom, make up the spiritline team and are coached by Monica Gaspar, who is a Xavier and spiritline alum from the class of 1992. Danielle Behrens is the cheer coach and Taylor VanArsdall is the pom coach and also a former gator and spiritline member from the class of 2011.
Xavier spiritline made the whole Xavier community extremely proud of its great accomplishments at nationals. Congratulations to the spiritline members and coaches on this significant win!