Phoenix hosts the NCAA Final Four Tournament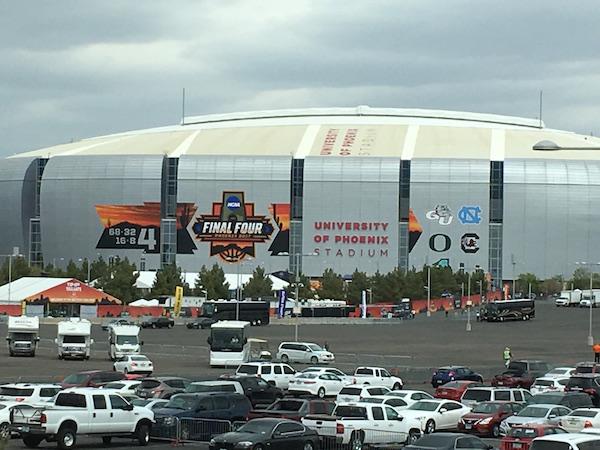 Is your bracket destroyed yet? Even if it is, you can still enjoy the fun of March Madness.
This year, the Final Four games of the NCAA tournament will be held in Phoenix, Arizona at the University of Phoenix Stadium. Aside from the three basketball games being played, there are a slew of other events relating to the Madness the week leading up to the games.
A March Madness Fan Fest, Music Festival and of course the basketball games are all part of the Phoenix fun. Starting March 31st, the festivities last until after the final game on Monday, April 3rd.
According to the Phoenix Final Four website, the Fan Fest "is a festival within a festival jam packed with youth clinics, giveaways, concerts, interactive games, special appearances, autograph signings and much more." It will be a fun event for all ages, held at the Convention Center in downtown Phoenix.
The March Madness Music Festival includes the AT&T Block Party on Friday March 31st, the Coca-Cola Music Festival on Saturday and the Capital One JamFest on Sunday. There are big stars making appearances such as Aerosmith, Keith Urban, the Chainsmokers, Macklemore & Ryan Lewis, Grouplove and more. The most exciting part is… they are all free! So if you don't have any plans for this weekend, head to Margaret T. Hance Park on Friday, Saturday or Sunday for a great time with friends or family.
Finally, the actual playoff games are on Saturday. South Carolina will take on Gonzaga on Saturday afternoon and Oregon will face North Carolina on Saturday evening. Since the basketball games are being played inside a football stadium, some work had to be done to convert the field into a court. This was completed a few weeks before the games so tourists could look at the stage and the teams could come in to practice.
Junior basketball enthusiast, Yasmin Leon, is very excited about the Final Four coming to AZ. She said, "I feel like we don't get any recognition despite our good facilities, and with the Final Four here we get to show off AZ and it's greatness!" Thousands of people have been working hard to prepare for this monumental event. Construction crews, financial planning committees, the teams' agents and so many more have dedicated a great deal of their time to make this NCAA Final Four tournament a great one.
This year has experienced some great upsets, so we will have to watch to see which team will come out on top.