What are the benefits of a summer internship?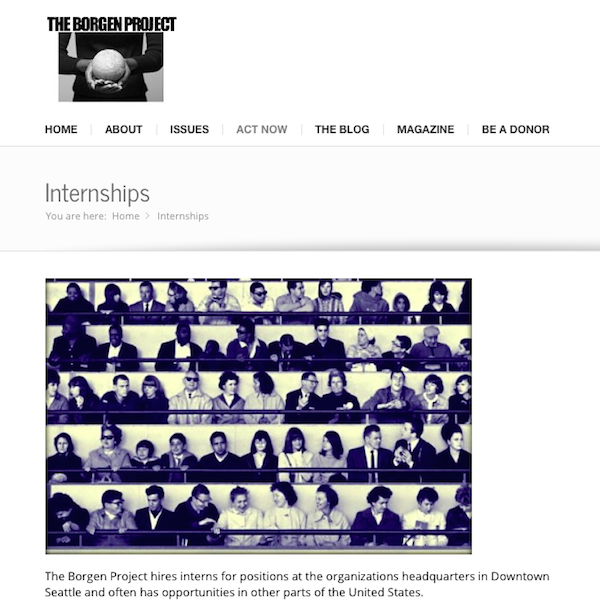 Summer internships can be a very beneficial pursuit for those interested in any career path. Paid or unpaid, internships are a great opportunity to learn more about your field of interest. Whether studying cancer cells in a lab or writing at home for a newspaper, working as an intern is an experience that will expand your horizons and build up your college resume.
Internships started in the 1960s, but did not become popular until much later, according to TIME. Ever since then, students and graduates alike have been participating in these "pre-jobs" as a way of learning more about their desired career.
This summer, I took part in two internships: a journalism internship at The Borgen Project, a national nonprofit that is working to end global poverty, and an office internship at Catholic Charities Westside Head Start, a government-funded program that provides free kindergarten tuition to low-income families.
My application process for The Borgen Project was pretty comprehensive and took about two months in total. The first step was to communicate my interest in being an intern. Next, I had to submit writing samples and my resume. After these were approved, I took a writing test to see if my writing was a strong fit for The Borgen Project. Finally, I was invited to take part in an interview, via Skype, where I had to show my knowledge for The Project and come across professionally.
After all of this, I learned that only 12% of applicants were accepted. I was thrilled to find out that I was one of them.
Senior Skylar Smith was also an intern at The Borgen project this summer, but on a different path. She said, "I was a public relations and marketing intern. I brought poverty-reduction legislation to US Representatives and Senators for them to co-sponsor."
Internships are the best time for learning. Did you make a computing mistake at your programming internship? No worries! Employers of interns know that students apply for an internship because they want to learn more about a career, not because they think they are experts on the subject already. Although there are different levels of rigor at different organizations, no employer expects their intern to be a master.
Smith said the most important thing she learned during her internship was that, "even though I'm just a high schooler I can really make a difference in alleviating global poverty."  
My role as a journalism intern encompassed three aspects: writing two articles a week, contacting Congress about poverty-reduction bills and raising $500. The biggest take-away I had from this internship was that every job has so many different aspects to it. Being a journalist does not merely mean writing articles. It means researching, connecting to the community, staying informed of worldly issues and so much more.
It does not matter the type of career you are interested in, there are internships for everyone. Websites like volunteermatch.com and internships.com can help you find the perfect one.
Internships have proved to the premier way to practice living in the real world. Whether you are a freshman or a senior, it is never too early to start learning about your future.