Q & A with Ms. Running
De-stressing the campus one gator at a time.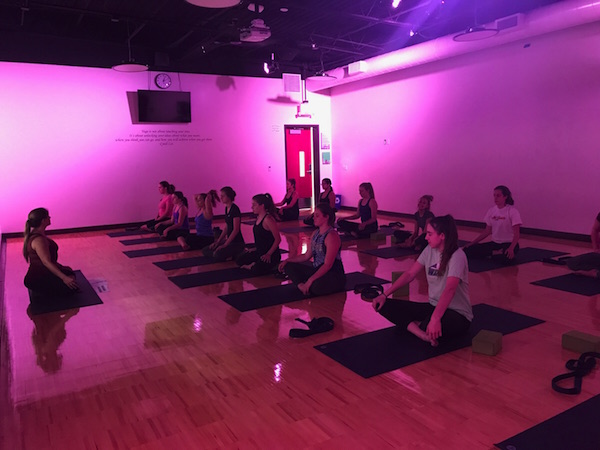 Hang on for a minute...we're trying to find some more stories you might like.
Practicing yoga has so many benefits – especially for stressed out high school students. Yoga helps to calm the nervous system, increase blood flow and increase strength and flexibility. The Xavier class entitled "Fitness of the Body and Mind" teaches students about the asanas (poses), pranayama (breath) and dhyana (meditation).
Xavier's yoga teacher, Ms. Running, is an expert yogini and was willing to share her skills with the Xavier community. Here she shares some reasons on why she is so passionate about this practice.
1. When did you discover yoga?
I discovered yoga when I was pregnant with my first daughter (now a sophomore at Xavier), and the physician suggested that I do something other than ballet/modern/jazz dance. I took a few classes at a community college, and I found it to be such a wonderful physical workout and so emotionally grounding. I was hooked
2. What benefits have you received from the practice and how do you share them with your students?
In addition to the physical benefits of strength, flexibility, and balance, I utilize proper breathing to become calm and focused. I continually center myself and connect with God on a daily basis. I encourage students to enjoy all these benefits through asana (physical poses), pranayama (breath work), and dhyana (meditation).
3. Has teaching in a school environment changed the way that you view teaching?
Teaching yoga in a school environment versus in a studio/fitness club is much more satisfying to me as an instructor. Because students are required to attend classes, I can watch their progress, work with them individually (especially if they encounter sports injuries, etc.), witness their inspirational journal entries, see their posture improve, notice their self-esteem grow, etc.! These young women are interested in challenging themselves and learning more about themselves
4. How did you bring yoga to Xavier and what was the inspiration and intention behind it? I brought yoga to Xavier because it is my absolute passion, and I feel there is a need here for a class that provides tools in order to manage the stresses that Xavier students encounter. Also, we have many athletes that I feel benefit from the stretching. I think everyone does better when they have an awareness of their optimal alignment
5. What is the biggest lesson that you have learned through your own practice and/or through your teaching experience?
I think the biggest lesson I have learned through yoga is to lead with your heart . . . it's smarter than you think!  
We are so lucky to have classes like this offered at Xavier and to be able to learn balance in our busy high school lives.