Xavier's Open House welcomes prospective students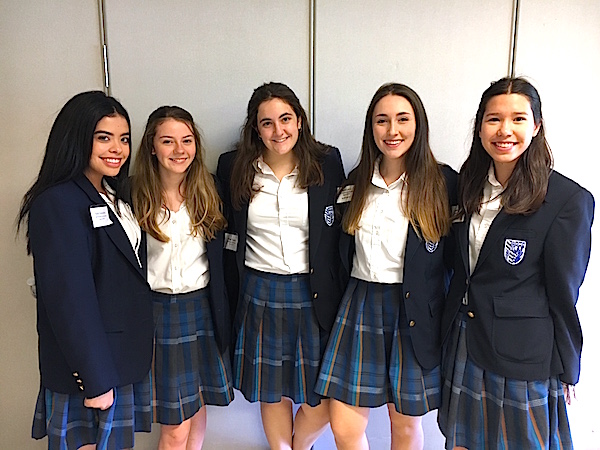 On Sunday Oct. 29, Xavier hosted hundreds of prospective families at the annual Open House. On this day dedicated to future gators, middle school students and their parents came to Xavier to learn more about the rigorous academics, exciting extracurriculars, outstanding sports and faith-filled community that make Xavier so special.
Arriving at Open House around 12 p.m., the eighth grade families were invited to attend an informational session in the Performing Arts Center. During the presentation, the parents heard points similar to what their daughters heard on Eighth Grade Day: reasons why Xavier is the best school on the planet and steps to apply to Xavier starting on Nov. 15.
After hearing from Xavier's leaders in the assembly, the students and parents were offered a tour of campus led by Xavier's student ambassadors.
The student ambassadors represented Xavier as tour guides and greeters. Clad in their navy blazers and black flats, each ambassador welcomed the eighth grade families with a warm smile and a friendly Xavier "hello."
Senior Sofia Gonzalez reminisced back to her days as an eighth grader. She attended Open House in fall of 2013 and remembered it being "an inspiring experience because of the welcoming environment that [she] encountered from the staff at Xavier and the ambassadors who guided [her] around."
Now as a student and an ambassador, she sees Open House "as a way to be welcoming to those young women who are in the same position [she] was in and to show them that choosing Xavier was one of the best decisions [she] ever made."
Open House has been a tradition at Xavier for quite a while and continues to be a superb way to show off the school that 1,200 students call home. Just as high school seniors may tour college campuses to learn more about their next possible home, eighth graders enjoy coming to Xavier's Open House to see the beautiful campus and experience the hospitable environment that they may call home for the next four years.
However, the prospective students are not the only ones who benefit from attending Open House; parents and family members of the eighth graders also appreciate this opportunity to explore their daughters' future. While walking around campus, one cannot help but overhear the commendations about Xavier that come from a tour group.  
Aside from the information session and tours, there were a myriad of other activities that the prospective families could take part in to get a better sense for Xavier's community. The Dad's Club table was a hit, possibly due to their free donuts and live television. The Mother's Guild table was also popular, with their free cookies and informational fliers. Finally, the interactive classrooms were a great way for parents to experience a real classroom setting and imagine their daughters in the same desks one day.
With the enthusiasm from the student ambassadors, free goodies from the Dad's Club and Mother's Guild, dedication from the teachers and welcoming spirit of Xavier's leaders, Open House 2017 was an encouraging step for many eighth graders to become part of Xavier's graduating class of 2022.