Starbucks: A war on Christmas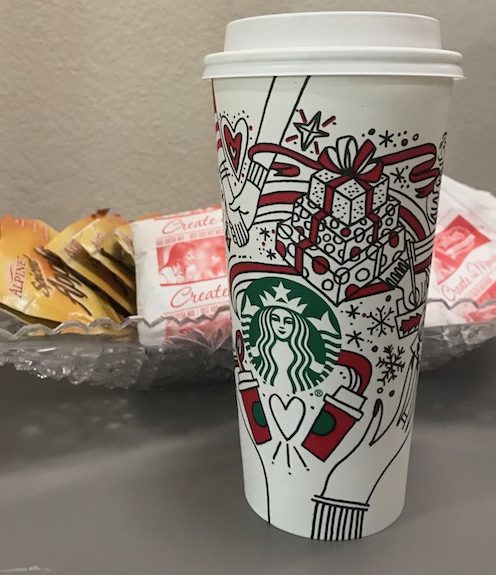 Hang on for a minute...we're trying to find some more stories you might like.
Starbucks has released their annual holiday cup just in time for the holiday season. In recent years, the Starbucks cup has spurred debate over its holiday theme. While some say that the cup forces the Christian belief of Christmas on all customers, others say that the cup is not "Christmassy" enough.
This debate has led to customers boycotting Starbucks while the coffee chain pulled designs from the cup. In 2016, amid controversy, the brand released a solid red design.
This year, Starbucks has taken a new approach. The coffee cup consists of a red and white design, allowing the customer to color in the shapes. Days after the initial cup was released, Starbucks showcased another holiday design: a red cup with a white heart. These cups were aimed at taking a more neutral approach than showcased in previous years.
However, people are yet again infuriated with the Starbucks holiday cup, as some call the controversial cup a "war on Christmas." Sparking national news coverage and debate, this little holiday cup has attracted a lot of attention.
In the Xavier community, the cups do not seem to have much controversy. Serious coffee drinkers are less concerned with the design of the cup, and more of what it contains, such as a peppermint mocha.
Starbucks is a staple in the Xavier community, as students need caffeine to combat late study nights and early mornings. Junior Holly Ngo started enjoying her peppermint mocha way before the holiday season started. "I think that the [holiday] cup is cute and festive and it shows a lot about the winter season." She even said, "I think that this is my favorite design."
The question, then, is this: how will Starbucks approach this issue in the future? Will they pull their holiday line? Or will this cause them more controversy?
Hopefully they will be able to compromise on a design in the future in order to appeal to both religious and nonreligious customers.