Hanukkah is cool, too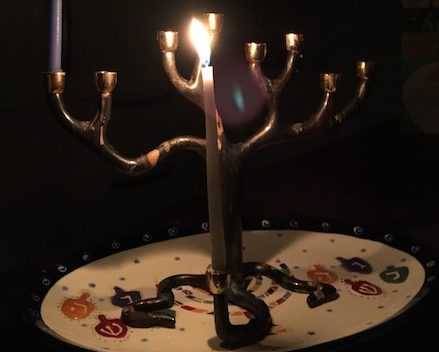 Hang on for a minute...we're trying to find some more stories you might like.
'Tis the season of… Hanukkah! Although the Christmas season spreads loads of cheer and fun, Hanukkah is still exciting for Jewish families across the globe. For someone who has grown up both Jewish and Catholic, I must admit that the joy of Christmas is much more overwhelming than that of Hanukkah. But I think Hanukkah is a holiday that deserves a bit more love this season.
Spinning dreidels or lighting candles might come to mind when thinking about Hanukkah, but there is much more behind the celebration. This holiday celebrates the miracle of the Menorah, a candlestick with eight candles, in the Temple of Jerusalem that stayed lit for eight days with using only a single day's worth of oil. Hanukkah is eight days long, which means eight days of presents.
Hanukkah can also be referred to as "The Festival of Lights" where one candle on the Menorah is lit each night. The Hanukkah blessing is sung each night as one new candle is added and lit with the "helper" candle, known as the shammash. After that, presents are opened and the Menorah remains aflame all night. It is a warm and casual gathering consisting of family and friends.
Even though there are eight days, the presents are generally not huge. In my family, I will typically receive a small gift every night, since I celebrate Christmas as well. During Hanukkah, it is tradition to eat potato latkes. These pancake-like patties are comprised of potatoes, fried until they are golden brown. It may sound strange, but many eat their latkes with a side of applesauce, a treat I encourage everyone to try out this season.  
Junior Sarah Alpert states, "I love Hanukkah because there's a lot of fun holiday parties through my temple and loads of good Jewish food to eat. In my house, we light the candles every night and get small presents."
Hanukkah is a very special holiday, although often outshined by Christmas. If you have any friends or family that celebrate Hanukkah, I encourage you to join in on the amazing Festival of Lights.