How to stay fit during the winter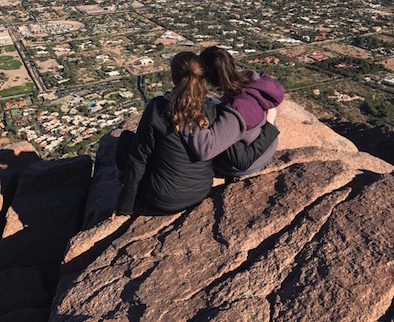 Hang on for a minute...we're trying to find some more stories you might like.
The winter season is approaching and that calls for watching Christmas movies and baking holiday treats. However, we often forget about our health during the holidays, as we stay indoors and consume unhealthy amounts of cookies and hot chocolate. Although indulging is one of the best parts of the season, it is important to maintain motivation, stay active and get outside!
When the Christmas season is over, many feel slumped and make it their New Year's resolution to get back in shape. Making time for exercise is a necessity during the winter time when it comes pursuing those fitness resolutions.
Junior Rachel Arabia said her "favorite thing to do in the winter is hike because the weather is cool and it's the perfect thing to do with friends."
Fun activities that can keep you fit:
Go hiking

Hiking in the winter is perfect with the cool Arizona weather. Hiking with family and friends is a good way to stay active, and spend time with one another.

Go for a bike ride

The weather is perfect during the winter for a nice bike ride. Bike to a local coffee shop or breakfast shop with family and friends on a Saturday or Sunday morning to get in your daily exercise!

Hit the gym

Although it is nice to spend time outdoors during the winter, participating in a yoga or zumba class is a fun way to get your daily exercise.

Ice skating

Ice skating not only fun, but it is a great form of exercise.

Walking around the mall

This may seem small, but it is possible to get in those steps for your FitBit while shopping for Christmas gifts. To burn a few more calories, park in the furthest parking spot for extra walking distance.
Get outside, enjoy the cool weather, and burn some calories!