A letter to female directors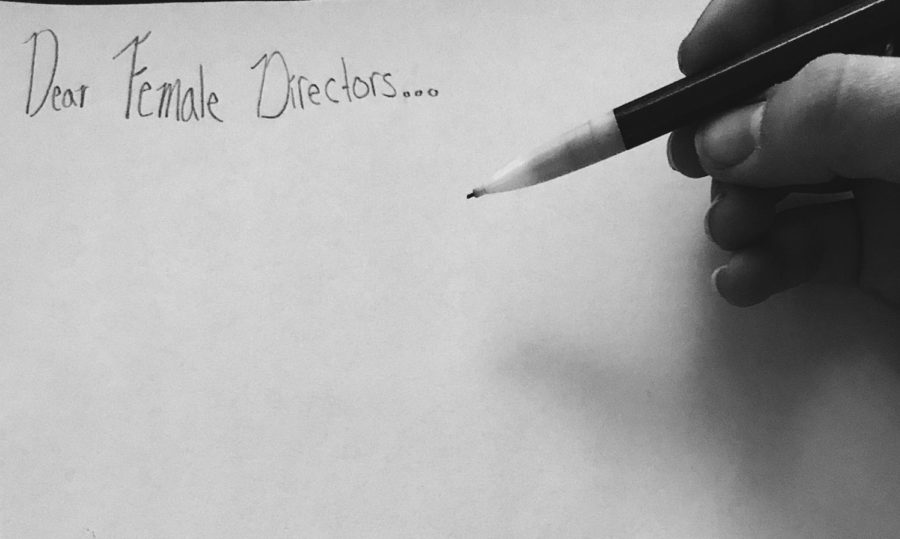 Grace Halter, Club Writer
January 24, 2018
Dear Female Directors,
From Patty Jenkins, to Greta Gerwig, to Sofia Coppola, to Ava Duvernay and everyone in between, female directors such as yourselves empower and ignite a passion in aspiring female (and even male) filmmakers of the next generation.
In a largely male dominated industry, your leadership and success is not only an example of how hard you worked to become so accomplished, but it shows the power and creativity that the female mind holds, and that our minds are forces to be reckoned with. After watching "Wonder Woman" and "Ladybird" in 2017, I was motivated not only by the strong and independent characters, but these movies meant so much more to me knowing an equally strong woman was behind the camera, making the magic happen. Though these two movies in particular broke boundaries, women have been making critically acclaimed movies for decades. So why aren't we hearing more about them?  
Women in the film industry have proved time and time again that we should not be underestimated. How many years will it take before female directors are held to an equal status as male directors? In all 90 years of the Academy Awards, how is it possible that only one woman (our war movie queen, Kathryn Bigelow) has won best director? Not to mention only four women (now five, congrats Greta Gerwig, you're a true icon!) have ever been nominated for best director. It is time female directors are given the appropriate recognition.
This year gave birth to the #TIMESUP movement, which has shown how important it is to shed light on the wrongs of the film industry. The Time's Up Organization not only supports women standing up against sexual harassment in Hollywood, but it give females in the industry the platform to lean on each other and raise up the power of females in Hollywood. Through this movement you have given younger women a voice and the confidence to not back down.
As a high school girl and an aspiring screenwriter, I find most of my role models in great female directors and writers. It is always so inspiring to me when a woman creates a movie that moves me, because it is not everyday a woman is given the opportunity to make movies, whereas for men it is much more common. I know I am not the only one inspired by seeing females dominating Hollywood. Many Xavier students want to enter into this industry, and it is important to have strong mentors, like yourselves, to learn from.
As you set out on your next project, I hope this letter reminds you of the impact your contributions make on girls all around the world. I can only wish for a fraction of the talent you have. As Kathryn Bigelow said, "If there's specific resistance to women making movies, I just choose to ignore that as an obstacle for two reasons: I can't change my gender, and I refuse to stop making movies."
Thank you for everything you have done. It is women like you that inspire girls like me to pursue careers in film and writing.
Sincerely,
Grace Halter