Stark Gallery review: Art by Xavier staff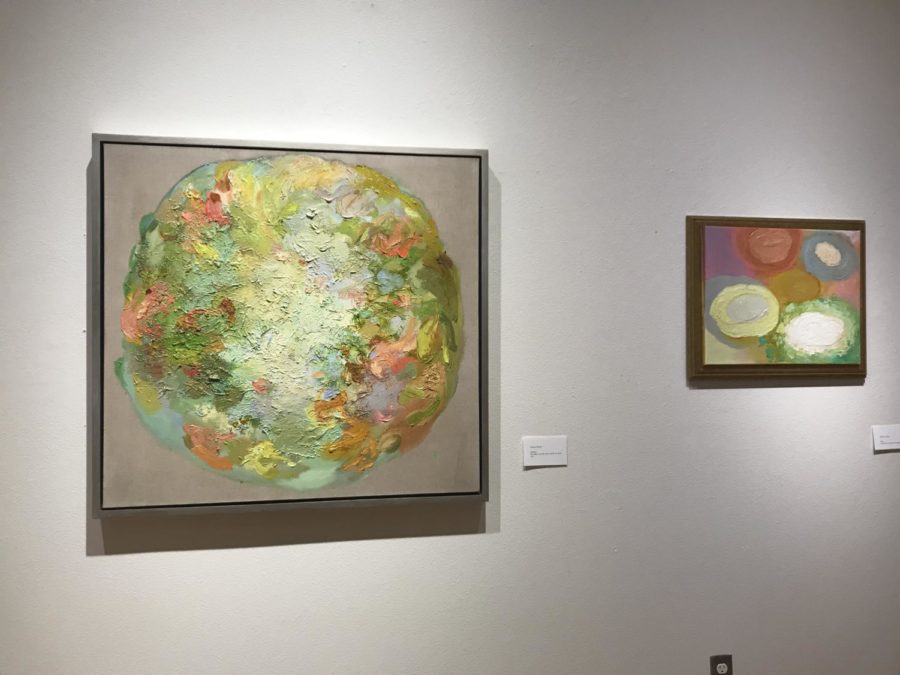 Grace Halter, Club Writer
February 14, 2018
Stark Gallery is hosting contemporary art created by teachers of the Xavier community. The works on display include a variety of sculptures, installations, photographs and paintings made by our very own Xavier teachers. This exhibit is a must see, because it showcases the amazing creative talents of the Xavier art department.
One piece, a photograph of a beautiful New York alleyway with the Manhattan bridge peeking out in between, was photographed by Xavier's own Mrs. Julianne Averbuck. This piece, title New York City, is a 16 by 20 digital photographic print adhered onto wood. The picture is a beautiful look into the hidden beauty of New York City. The Manhattan Bridge stands out beautifully against the bright reds of the bricks in the ally, creating a truly beautiful image.
Also on display are two paintings by Ms. Alison Dunn. The first painting, titled Garden I, was created with oil alkyd paint, marble dust and mulch and is displayed on linen. The bright colors and the peculiar textures give the feeling of a garden in the spring, full of blooming flowers. The painting attracts the eye with its abstract strokes and pops of color. The second painting by Ms. Dunn is an oil painting over a gold frame titled Pools. The shading and contrasting colors create a beautiful painting that is unlike anything in the gallery before.
An exhibit titled Man Cave, created by Mr. Jeremy Briddell, is an installation that includes several of Mr Briddell own ceramic pots. This exhibit includes a white, shaggy rug, a white chair, lamps, and pots and paintings. It is a beautiful tribute to a human's personal, creative space. Not only does it show Mr. Briddell's talent as a ceramicist, it shows his good taste in interior design and art.
Mr. Ward's sculpture, Floster, is a beautiful sculpture of a flower and its roots, created with maple, steel and aluminum. It is a delicately-crafted and intricate representation of a flower pulled up by its roots. The stem and petals of the flower are made of the maple wood, smoothed and sculpted into a realistic and stylized depiction of a lily flower. The root is made of the steel and aluminum, and is very detailed, creating a contrast to the smooth soft maple of the flower. This sculpture is a beautiful, hand-crafted piece that showcases Mr. Ward's extreme talent.
Last but not least is an installation by Mrs. Ward, a piece titled …and then. It consists of wooden tiles, a wallpaper sample, a monitor, and sound effects. Not only does its intriguing and artistic appearance draw you in, but the sound takes the piece to another creative level. The sound of knocking on wood echoes throughout the gallery and connects with the wooden tile on the ground. This installation is a great use of technology in art, because it makes the piece more unique and interesting. …and then is a great example of Mrs. Ward's creative and artistic mind.
The Xavier students and community should definitely take the opportunity to check out this amazing and diverse exhibit happening now in the Stark Gallery. It is a great testament to the many talents of our teachers.