Get outside: where to see the wildflowers in AZ
Hang on for a minute...we're trying to find some more stories you might like.
With spring officially starting on March 20, and the Arizona weather already creeping into the low 80s, wildflowers all over the Grand Canyon state are soon to be in full bloom. Seeing these wildflowers are not always the easiest task as Arizonans usually think that the desert is full of cacti and brown dirt. However, despite being a dry winter, wildflowers are expected to be in full bloom this year.
But just how does the normal person see these colorful beauties? A short drive and a few hours may be all that is necessary to be able to snap some Instagram-worthy desert pictures. Gathered below is a short list of intriguing hikes that are sure to brighten a Xavier student's transition into fourth quarter.
Sophomore Grace Valandra says that, "[Hiking] gives us a moment to breathe and take in our surroundings."
Lost Dutchman State Park
This park, located in Apache Junction, is known for steep cliffs and desert marvels. Located at the base of the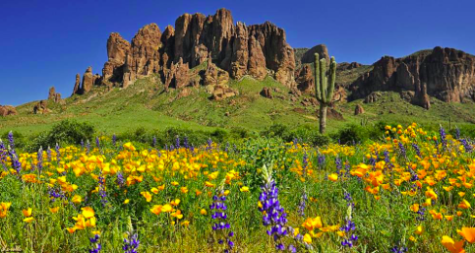 Superstition Mountains, this park has a parking lot that fills up fast, so get to the site early. However, the AZ State Parks say that rangers expect the brittlebush and globemallows to be in full bloom in mid-March. Grab your camera and a friend, because the Lost Dutchman State Park is bound to be the perfect setting for any sunset or sunrise photos.  
                                                              Photo courtesy of Tourism Landscape
Picacho Peak State Park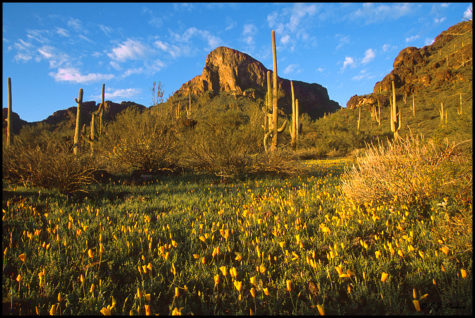 Situated between Casa Grande and Tucson, this park has a wide variety of trails that are perfect for any fitness level. While the highest trail requires the hiker to inch along by ropes, picnic tables and flat trails fill the lower valley reports the AZ State Parks. Unique to this park are desert marigolds, which fill the brown desert with layers of bright, yellow petals.                                                                                                 Photo courtesy of E.J. Peiker

Catalina State Park
Also located in Tucson, this park is known for the Sutherland Trail which offers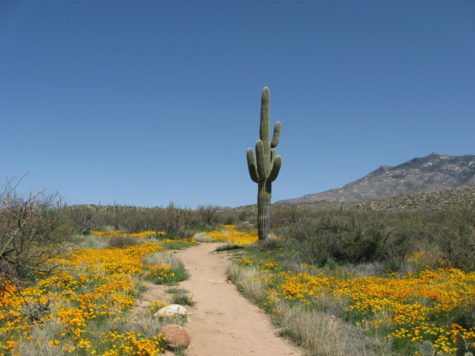 ]expansive viewings of wide ranges of flowers, from poppies to cream cups. The AZ State Parks suggest that the best time to enjoy this park is around late-March to early April. The park also offers a wide grouping of trails, from a one-mile trail to a nine-mile trail.

Photo courtesy of the University of Arizona
Grace also added that, "[Hiking] is important because it allows us to get out of the stressful life of homework and school. Everyone should take advantage of what nature has to offer."