Student Council election process
Are you interested in running for student council? Read more about how to run for an office on student council and what student council is all about!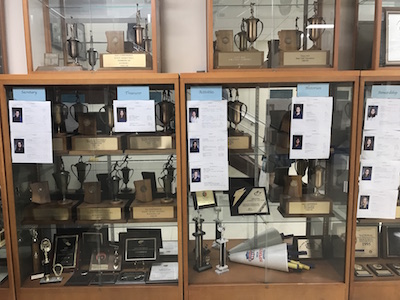 Hang on for a minute...we're trying to find some more stories you might like.
Student council is a leadership activity that focuses on planning several student activities and events. Students who hold an office in student council are representatives for their class.
Attending the student council workshop is mandatory and even if you are the slightest bit interested in running, you must be present at this meeting. At the workshop, all of the guidelines for running are discussed. The meeting is at lunch on Wednesday, March 14. The meeting will be in B111 for freshman, FH225 for sophomores and Lutfy Hall for juniors.
Junior Katherine Thomas has served on student council for all three years of her high school career. This past week, she was elected Executive Board President. She said, "I love student council! My favorite part about Student Council would be the rallies. I love planning them with the other girls and getting together to make posters and practice the dance. My advice to anyone running would be to go for it, because you'll never regret running! Also, I would suggest to work on your speech as soon as possible."
The student council of each class have different duties, but they all perform a dance at the rallies, participate in Bottles for Bethlehem, the Christmas Tree Lighting Ceremony and other events throughout the school year. There is a class meeting once a week during lunch and a meeting every other Wednesday at lunch that includes Exec Board and all class student councils. Every member on student council is a homeroom representative. As a homeroom rep, you write the schedule on the board, report items discussed at the big meeting and collect Buck-a-Sweans money.
The whole election process is about two weeks. It starts with the mandatory workshop. Once you have attended the workshop, there are various tasks to complete leading up to election day. The second step is the petition, which involves gathering signatures from the finance office, your homeroom teacher, a teacher of your choice, the Dean and Sister Joanie. The next steps are writing your speech, filling out a resume that is displayed in Fitzgerald Hall and creating signs to wear the day before the election.
It is common to post on social media to campaign and get the word out. Once everything is turned in and approved, the last step is to say your speech on election day. It is normal to feel nervous to say your speech, since you are talking in front of 300 people, but it will be over before you know it!
Student Council is an amazing experience, and I would definitely recommend running for a position.