How Tech Lab Assistance can "save the day"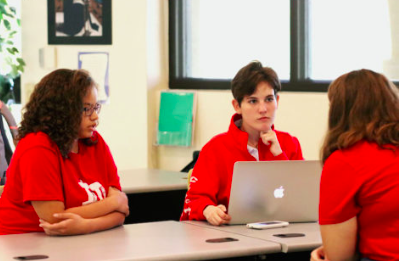 Hang on for a minute...we're trying to find some more stories you might like.
One program under-utilized in the Xavier community is the Tech Lab Assistant program. Through this program, students in computer programming, at any level, can receive help. Tech Lab TA's are available every day before school, at break, lunch and after school. But where do you find this help? Look to VPC 101 behind the desk with the Tech Lab Assistant sign.
Junior Misaal Irfan enjoys the TA program, being one herself. "Student technology advisers has given me the ability to help students in the computer lab, whether they need assistance with computer science homework or are having trouble with the wifi."
TA's include juniors and seniors who have completed the sophomore year class, and some AP students. The TA's are knowledgeable in computer science, and will be able to answer basic questions regarding essential programs. If more in-depth questions need to be resolved, however, the TA's will happily refer students to the teacher. Tech Lab TA's can also be used as a first stop to ask questions before going to Mrs. Wyman. Everyone is more than willing to help, so if you have questions, make sure to stop by!
Misaal went on to say that, "Students should see the technology advisers because we can give quick advice about IT classes. We even sell headphones and know how to work well with laptops."