PSA: where to buy prom dresses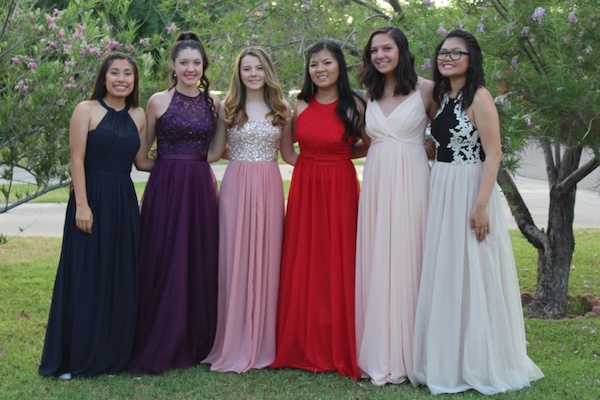 Hang on for a minute...we're trying to find some more stories you might like.
The time has arrived, it is finally prom season. While mixed emotions about this time of year fill the air, especially with the fourth quarter already beginning, prom is here before we know it. However, most Xavier students procrastinate on prom dress shopping. But, with the list below providing an assortment of dress-worthy websites, any student is guaranteed to find the perfect prom dress.
Junior Natalia Hiler said that prom season is one of the most stressful times of year. "I tried to buy my prom dress as soon as possible, I always feel so bad for the people who order their dress a week before prom. You might as well order it early!"
Prom is on April 28, and while it may seem like a long time away, it is rapidly approaching. Not to mention, prom dresses often require hemming, have to fit a rigid dress code and take for what seems like forever to ship. So, how does a Xavier student avoid this dilemma? Seek help below.
1. Sherri Hill: A favorite to many Xavier students, Sherri Hill provides a wide assortment of dresses that, believe it or not, often times fit the dress code. The dresses this year are mainly pastel, especially the Prom "Spring 2018" collection which features pink, white and red flowery patterns. However, most dresses require the customer to pick up the orders in store, so plan ahead.
2. Nordstrom: The "go-to" store for prom dress shopping just stepped up its prom game for the 2018 season. Offering a wide range of styles and prices, any Xavier student is guaranteed to find their perfect prom dress. The colors are mainly blush toned with subtle details of flowers, ruffles, or jewels. Plus, Nordstrom offers in-store pickup and speedy shipping to make any prom season a breeze.
3. Lulu's: This is one of the most popular stores among Xavier students. Not only are most of the dresses moderately priced, but are offered in an array of colors that meet any friend group's color coordination plan. Plus, most of the dresses fit the dress code without skimping on the "cute factor."
4. Have another place that is your "go to?" Comment below!
Junior Anne Wuycheck said, "I haven't bought my dress for this year yet, but I am trying to buy it as soon as possible." When asked where she is thinking of buying her dress, Anne mentioned, "I love looking at Lulu's dresses, there are all so pretty!"