Four years of memories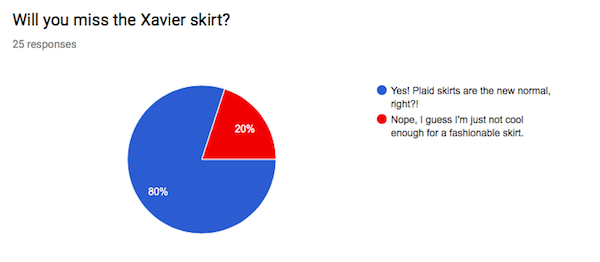 Hang on for a minute...we're trying to find some more stories you might like.
Senior's have the most memories of anyone at Xavier. With four years spent at an all-girls, college prep and Catholic school, there are bound to be numerous memories that stretch across curricular and extracurricular activities. Below are some memories collected from this year's seniors, sorted by topic.
Do you have a favorite memory of a teacher, fun teaching style, favorite lesson, etc.?
"'The future is a mist' -Senior Maresca"-

Sydney Missigman

College algebra when we dropped barbies off of VPC –

Maddy Corley

Mrs. Welty teaching with her dolls. –

Michaelina Miller

Mr Striklen, I forgot how to spell his name, was the best. –

Julia Hutt

Mr. Van giving me a D in Weight Training. –

Gabby Aguirre

During my freshman year, my theology teacher, Mr. Stricklen, would tell stories about how he met his wife, Ruth. Mr. Stricklen was a sweetheart and made learning fun! I really miss him and he would always answer my emails, even during the weekend. I really appreciated that! –

Isabelle Gregorio

My favorite memory of a teacher was in Ms. Enciso's class, sophomore year, when we would go around the class and talk about our celebrity crushes both female and male and how we would have story time in her class where if you wanted to share a story you go in the front of the room share it. It was really fun. –

Taylor Orscheln

One of my favorite memories of a teacher was having my aunt, Mrs. James for freshman year Spanish. It was really awkward having her at first, since I let a couple "Aunt Jenny's" slip, which she wasn't too happy about. But as the year went on I really enjoyed seeing her everyday and getting to spend time with her! –

Courtney Schumacher

My favorite instance was when we were discussing the relationship between Arobin and Edna from The Awakening. Mrs. Hubbard offhandedly mentioned that in chapter 22 of the book, Edna and Arobin consummate their relationship, which sent the girls flocking to chapter 22 to see how they had missed that part. –

Lauren Kessler

One of my favorite teachers has to be Mrs. Galbreath, who was my AP english III teacher my junior year. I used to eat lunch in her room all the time and I loved talking to her and joking around with her –

Sara Valentine

My first day at school, I accidentally brought all of my books and didn't realize I wasn't going to need them that day. My mom was helping me carry one bag while I carried the other when Mrs. Donaldson came up to the both of us and asked us is we needed some help and said she'd put both of the bags in her classroom. –

Adejopé Adaralegbe

My favorite memory of a teacher was Mr. Ward having the robotics class make peanut butter and jelly sandwiches. He pretended to be a robot, and I was laughing so hard I cried into my sandwich. –

Lacey Nixon

My favorite lesson was Mrs. Galbreath's Transcendentalism unit. –

Kate Straneva

My favorite memory is Señor yelling FIN! –

Aydyn Fernandez

My favorite teacher was Mrs. Welty. I had her for criminal law sophomore year and then homeroom junior year. Sometimes in the mornings in homeroom, she would look up Jason Mraz or christmas songs for us to listen to before announcements and sing along with them (many times it was Sunday Morning by Maroon 5). –

Caroline Pescatore

All of my classes with Van. Her sewing class and foods class will always be in my heart! I will miss you van!!!

– Carson Mero

Favorite teacher is Mrs. Donaldson, i had her for two years and she is one i always knew i could talk to. She was understanding and truly care about her students. She was such a great teacher and i am forever thankful to have had her for not only one year but two.

– Lauren Hintze

Mrs. Welty and her dolls. The best and funniest teacher I have ever had and will never forget her amazing classes. –

Molly Kuhl

Mrs. Reil's wilderness survival tips. Stay away from bufflegrass. –

Lanie Wagner

Mr. Hestenes transforming into Buddy the Elf during a Physics lesson. –

Anna Heslin

One day I walked into Iacavo's class looking rather dishelved after pulling an all-nighter. I had my head wrapped in my blanket and as I entered the room Mr. Iacavo just looks at me and says "You look homeless." It was a very accurate description.

– Megan McElenney

My favorite memory of a teacher is when Ms.Nunez postponed one of the Honors World History tests freshman year because it was Thomas Jefferson's birthday and I had brought in a cake with candles to celebrate.

– Madison Peak
Do you have a favorite memory from a sports team, choir, club, etc.?
Freshman year I was on the varsity tennis team and we won state! –

Maddy Corley

Pre-show circle for the theatre program. Every show this is the most amazing experience to just spend time with those who have built a show with me. –

Michaelina Miller

bball team w coach laura

– Gabby Aguirre

Student Ambassador events such as open house. Due to the fact I did my first tour and it was tiring, however, I love touring the parents and future gators that will be attending our school. I love sharing our spirit here! –

Isabelle Gregorio

My favorite memory was during summer school government class. My friends and another group went and had a basketball tournament at lunch everyday. Even though we were all exhausted after the long days, we always looked forward to playing basketball and having a blast together. –

Courtney Schumacher

My favorite memory was from last year during the Once In a Lifetime production where the entire cast was involved in a lengthy and competitive game of Blow Dart throughout the show. People get each other from across the stage, then would desperately beg others to unfreeze them.

– Lauren Kessler

Robotics tournaments were the best part of robotics. Nothing beats getting up early, driving an hour to another school, and then seeing your best friends. All the hard work that you've put into the robot throughout the season gets to shine, and there is no greater feeling than winning a match because everything went right (for once).

– Lacey Nixon

Waking up at 2:00 AM to hike the Grand Canyon with the Cross Country Team RFPP

– Kate Straneva

Winning back to back State Championships with Spiritline and a National Championship.

– Aydyn Fernandez

My favorite memory from a sports team (freshman softball, the only sport I took place in) was talking to Mr. Waldraff about his shoes that had each toe separated –

Caroline Pescatore

Senior year student council rally dances

– Carson Mero

BROPHY STUDENT THEATRE!!! best decision of my entire high school career, it has amazing people in it, you come up with incredibly funny scenes, and you get a family when you join.

– Lauren Hintze

Winning State volleyball 2017!!

– Lanie Wagner

All my memories from Gatortown. Gatortown is my home and my family. Love you all always. –

Megan McElenney

My favorite memory from Presidents' Council was when my group was cutting ribbons for the blue and white teams and we totally underestimated how long it would take but how much fun it was and how much we bonded doing so

. – Madison Peak
What will you miss most overall? (Come on, there has to be something… You've been here for four years!)
Having potlucks at lunch with my friends!

– Sydney Missigman

I will miss being able to roll out of bed and show up to school in the same clothes as the day before with my hair not brushed.

– Maddy Corley

I'm gonna miss singing the alma mater with the school. It's my favorite part of every school event.

– Michaelina Miller

I will miss the rallies and the snacks people bring at xavier

– Julia Hutt

i will miss the morning ajs and going to school without having to get ready and wearing sweatpants and never wearing makeup to look good

– Gabby Aguirre

I will miss my friends and teachers. They really helped me grow and helped me be a better student! As well as the rallies and the awesome plays and dances.

– Isabelle Gregorio

One thing I will miss about Xavier is singing the alma mater at the rallies.

– Courtney Schumacher

I will miss running out for the rallies with exec!! I can't believe that I will never go to another Xavier rally, but the last one was one for the books!

– Margot Plunkett

I am going to miss all the friendships that I have made here at Xavier and all the good memories that were shared.

– Taylor Orscheln

Overall, I'll miss Pierian Spring. It was the one place where I could express myself creatively and confidently and it's where I honed my skills as a leader

. – Lauren Kessler

I'm going to miss two things the most: 1. The theatre department, because I've spent almost all four years doing build and tech for shows at both Xavier and Brophy and I've grown to love all the admin, teachers, and actors. 2. Wearing a uniform every day- it's so easy just to throw on the same outfit every morning without thinking, but in college I'm going to have to actually dress myself and that's going to be awful.-Sara Valentine

The atmosphere of Xavier because there's nothing like it.

– Adejopé Adaralegbe

The people. I have never met such hardworking, talented, intelligent, hilarious, and genuinely kind people. I can honestly say that my friends are the best, and these four years at Xavier would have meant nothing to me without them by my side.

– Lacey Nixon

I will miss my friends and rallies #rallyordie

– Kate Straneva

Sitting at the Bell Tower with my friends.

– Aydyn Fernandez

The thing I'll miss most overall is having lunch with my friend group, and having another group of our friends only sitting a table way. I'll miss not being able to call one of them over or to get up and talk to them during lunch or break

– Caroline Pescatore

I will miss seeing all my friends everyday!

– Carson Mero

I will miss the theatre community, all the friends i have met through theatre have become my family. They will all grow up and be incredibly successful which makes me so proud to know them, though i'm sad they will have to leave the state to do it. i will miss them so much. i will miss doing brophy student theatre, it was my second home and something i hold very dear to my heart, but i know the younger generations will continue on the club. Also i will miss the skirts, not looking forward to dressing myself every day.

– Lauren Hintze

Being able to come to school and not having to try. Going to school with boys is going to be 'different' next year…

– Molly Kuhl

Seeing my friends everyday

– Lanie Wagner

The lights out rally!

– Anna Heslin

The Wymans. Best. Teachers. Ever. Their phenomenal attitudes made me excited to go to class and their teachin was perfect and dedicated to each student. They have made me passionate about physics and computer science and I will be forever grateful.

– Megan McElenney

What I will miss overall is the rallies because each one was so fun and they made any day better!

– Sofia Gonzalez

I'm going to miss Sr. Lynn zooming through campus on her zappy

. – Grace Ramirez

Overall I will miss all of my friends and teachers who have made such a huge impact on my life and who have helped me become the amazing person I am today

. – Madison Peak
Do you have any funny stories about homecoming, prom, the frosh mixer, etc.?
It felt like every homecoming for the first few years of high school, it rained and I used to say that homecoming couldn't be fun unless there was rain.

– Maddy Corley

This Hoopcoming I got to leave early to take my good friend Jocie home after she fell on the bleachers and got a concussion. Hoopcoming is without a doubt the most interesting dance.

– Michaelina Miller

being a senior at the forsh mixer

– Julia Hutt

Getting gatorade poured on me by accident at hoopcoming

– Gabby Aguirre

During my frosh mixer, I was put in a congo line, and I put my hand on a freshman boy, however, he was really sweaty and gross!

– Isabelle Gregorio

During the frosh mixer, I lost my shoe, ID, and my hair got stuck in somebody's armpit for five minutes. I found my shoe, my ID, and took a long shower afterward. But still, it is one of my favorite dance memories ever.

– Courtney Schumacher

Frosh mixer had to be my best dance during all four years of high school. It was a chance t meet everyone in your freshman class and obviously meet the brophy boys:)

– Taylor Orscheln

For the frosh mixer, I didn't realize that everyone was going to wear jeans and a t-shirt. So I showed up wearing a frilly white dress and white oxfords and was completely overdressed. After that, I resolved to wear only jeans to the Friday night lights.

– Lauren Kessler

The frosh mixer was the reason I didn't go to very many dances. I thought that people dripping sweat on you was normal, and now looking back I regret not going to more.

– Lacey Nixon

Tripping on the platforms @ every dance.

– Kate Straneva

Until this year it rained at every dance so we would always have to run from the bus to the dance. I also went to frosh mixer with a huge fat lip because of an injury in cheer.

– Aydyn Fernandez

At the frosh mixer, some brophy boy was in a wheel chair and he wanted people to pick him up (chair included) and let him crowd surf… you can imagine how that went

– Caroline Pescatore

My favorite dance was hoopcoming, every year I always have a blast, 10/10 would recommend going.

– Lauren Hintze

I got hooped with a kid that was approximately 5'0″…I'm 6'1″.

– Lanie Wagner

Sophomore year I had foot surgery so for one of the dances I had crutches and a boot. At one point I ditched my crutches and just started hopping on one foot in a circle. My unique dance moves (aka flailing) drew a crowd and soon I was circled by people hyping me up.

– Megan McElenney

I remember almost being trampled at the frosh mixer because my friend and I were standing in the front when the boys ran to our side and we both thought it was just really funny!

– Sofia Gonzalez

One funny story I have about homecoming was from senior year. I did the German exchange program and the German's were here for the night of homecoming. My German girl thought my date was very cute and talked about him the whole night. Then after the dance, my German girl, my date, sister, and I went to Culvers to meet up with friends. There one friend got out for Senior Assassins and my German buddy thought it was the funniest thing ever to see people throwing water at each other. By the time we were driving home it was past midnight. All of the sudden my date starting singing happy birthday because he remembered it was my German girl's birthday. The next day I threw my German parter a surprise party and she even asked if my date could go even if he was the only boy there. Still to this day she asks me about him!

– Madison Peak