Xavier's 75th anniversary celebrations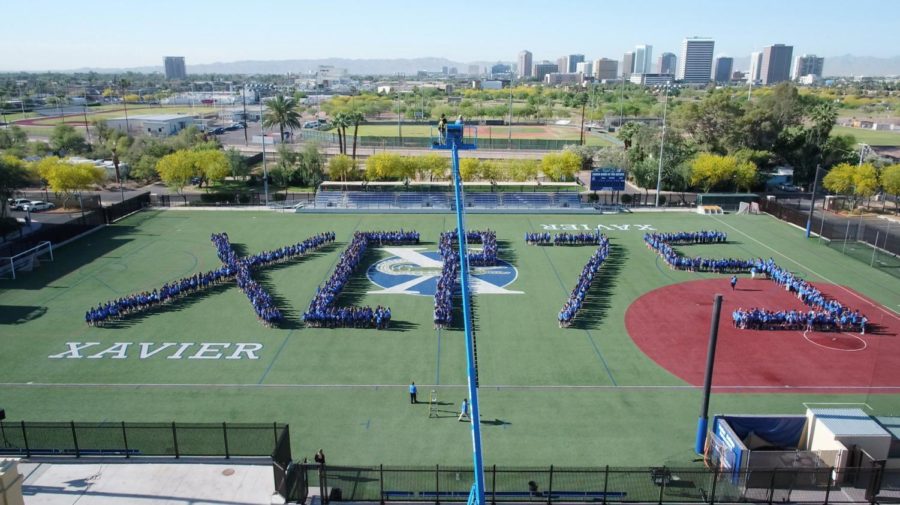 Hang on for a minute...we're trying to find some more stories you might like.
The 2017-2018 school year has been packed with new and exciting milestones, such as honoring Vice Principal for Activities and Athletic Director Sister Lynn Winsor and Principal Sister Joanie Nuckols' 50 years as Sisters of Charity of the Blessed Virgin Mary and Xavier's 75th year of existence. From the new banner hanging on the bell tower, to the schoolwide gathering on Petznick Field, Xavier has been celebrating all year.
On Thursday, April 19, 2018, students and faculty assembled on Petznick field to form the figures "XCP 75." The freshman formed the "X," the sophomores constructed the "C," the juniors built the "P," the seniors created the "7" and the faculty made up the "5." With the help of the Executive Board and the guidance of Sister Lynn, the event was successful and ran smoothly.
With the seniors graduating in a few short weeks, this celebration of the 75th anniversary will be one of their last memories at Xavier. A few seniors express their thoughts and opinions on being a part of one of Xavier's historic moments. Senior Exec Board officer Margot Plunkett exclaimed, "I'm so thrilled to be celebrating the 75th jubilee the same year as I graduate! It does come with a little bit more work with student council, but I think it is so sweet that my class is graduating on such a monumental year! It is so exciting that I was able to be a part of such a monumental occasion!"
Senior Eden Steinhibler asserted, "Graduating the year we celebrate the 75th anniversary of Xavier is exciting because we get to remember all of Xavier's history on a larger scale and appreciate the traditions of the school that much more."
Senior Student Council officer Isabel Wirth remarked, "It is super cool to be a senior and celebrating the jubilee of 75 years of Xavier! The whole school gets really into all of the festivities! I love that the 75th anniversary is happening during my senior year because on our 25th high school reunion, it will be Xavier's 100th birthday!"
Being a part of Student Council, I was informed of this plan well before it was announced. When I was informed of this plan to form the letters "XCP 75," I thought this was going to be a fun way where we can collectively acknowledge this milestone for Xavier. However, I had little faith because of its complex process. With all hands on deck, the shirts were distributed out to everyone, and we successfully formed the letters "XCP 75" in an organized fashion.
Xavier has truly made a memorable year for everyone, especially the seniors!