Members of the Xavier community participate in the Kindness Challenge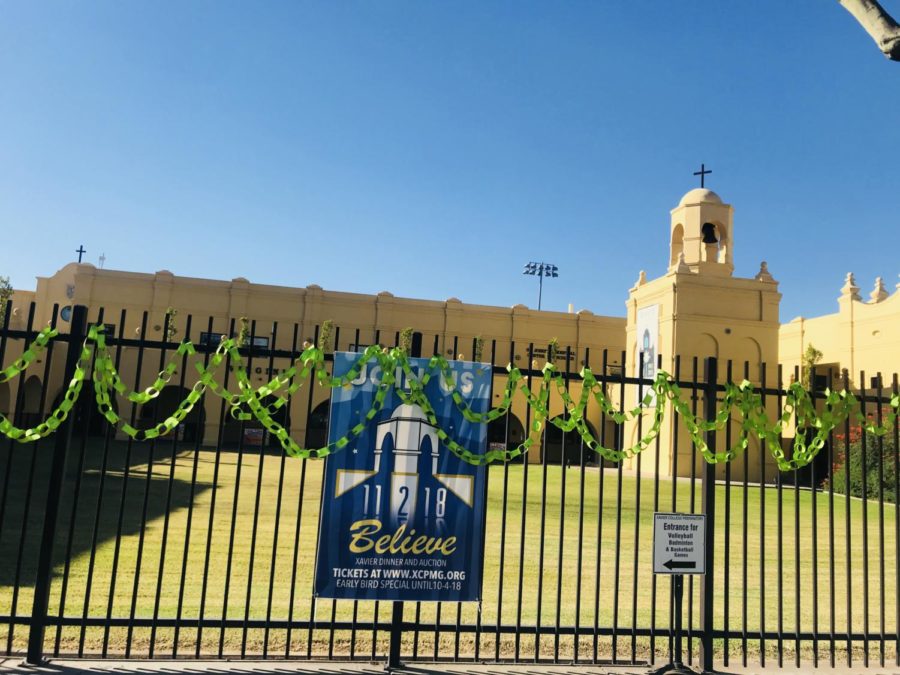 Hang on for a minute...we're trying to find some more stories you might like.
As of this year, Xavier has become registered as a Kind Campus through the Ben's Bell's Kind Campus Program. To prepare for the Jeannette Maré, the founder of Ben's Bells who spoke at the X Breakfast, held on Thurs., Sept. 27, every person in the Xavier community was encouraged to participate in the Kindness Challenge to motivate students and faculty to begin making a conscious effort to think think about intentional kindness. Green slips of paper were dispersed to each homeroom and members of the Xavier community were asked to write down how they plan to be kind this school year.
These slips of paper were assembled to create a long chain and decorated in the front courtyard of Xavier's campus the morning of the X Breakfast to celebrate the kindness project here at school. The Kindness Challenge is designed get people thinking about intentional kindness and how they plan to pursue it at school.
Kind Campus ambassador Senior Bridget Kelly, one of the students who brought this program to Xavier,  stated, "I think that by completing the Kindness Challenge campus wide it will force students and faculty to think more about their actions and motivate them to choose to be kind. I hope that by displaying this paper chain throughout campus it will serve as a reminder of the act of kindness each student wrote down and encourage them to follow through with it to make Xavier a kinder place!"
The Ben's Bells Kind Campus Program, along with the Kindness Ambassadors here at Xavier, is going to help educate others on the importance of kindness and how to implement these skills into the daily lives of all in the Xavier community and beyond.