Gators get out and vote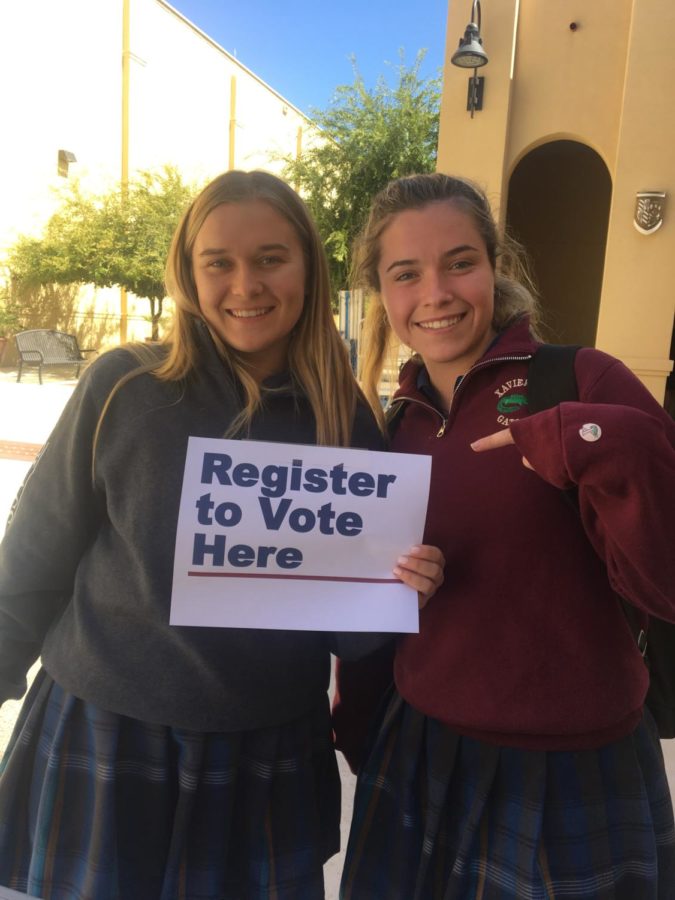 Hang on for a minute...we're trying to find some more stories you might like.
During the week of September 24, Xavier students had the opportunity to register to vote. Parked outside of Founders Hall, PACX Club sat with ipads to register perspective 18 year olds who will be able to vote in the upcoming election. Although these students aren't voting for president, their voice is still important within their local government.
The 2018 midterms will be held nationwide on Tuesday November 6. During this election, for the first time, millennials will make up the largest voting bloc. According to iamavoter.com, "if 50% of voters vote this November, it would be the highest midterm turnout in a century." Thus, Xavier girls believed that it was essential for their fellow students to get out and vote. Arizona is a swing state, meaning that one seat change in Congress could change a lot. Essentially, this means that voters have a huge responsibility whether they be for the blue or red.  President of PACX Club, Senior Sydney Dean believes that: "promoting voter registration in a school environment encourages students to be leaders for themselves and others. I think registering to vote brings together students in a positive way."  
At the voter registration table, PACX club had various groups of students to run the voter drive over the course of the three days. Despite having a similar event this past spring, Xavier successfully registered a handful of prospective voters! After recently turning eighteen, Senior Rachel Arabia says: "Registering to vote was something I felt was important and I felt that registering gives you a voice. Registering at Xavier was a super easy way to do it!" After the students entered their basic information onto an ipad, they were registered within minutes. All in all, the process was fun and simple, but more importantly it helped to encourage Xavier students to participate in the polls, ensuring them that their voice truly matters.