Brophy theatre prepares for Shakespeare's "Romeo and Juliet"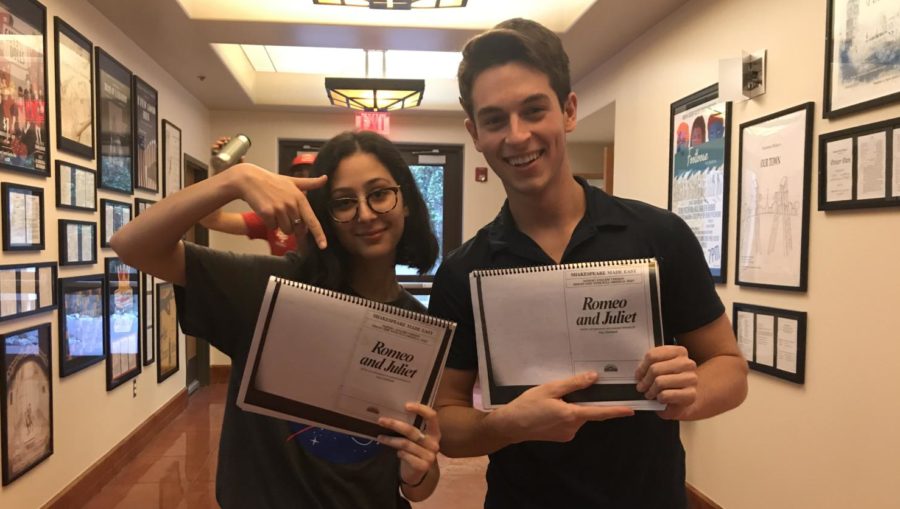 Lily Smyth, Club Writer
October 18, 2018
It's a #ThrowbackThursday in Brophy's Black Box Theatre this fall as members of Brophy/Xavier Theatre prepare for the Fall play; Shakespeare's Romeo and Juliet.
This November, audience members will be taken back to Sixteenth century Verona, Italy to find Romeo Montague, portrayed by Brophy Senior Johnny Robaina, falling head over heels for Juliet Capulet, played by Senior Bebe Katsenes. Featuring seasoned actors such as Xavier Seniors Abbey Alexander, playing the role of nurse, and Felicity Hacker as a part of the ensemble, this production will exceed all expectations!
This classic tragedy and love story will leave you reaching for your tissue box as this production shows love, loss, culture, and a lot of heart. With a small cast of a little over 20 actors, this performance will certainly knock your socks off. 16th century towers, colored lights, star crossed lovers; the perfect recipe for a show you wouldn't want to miss!
Senior Abbey Alexander, as Nurse, says that "I can't wait to work with this super talented cast and our director, Maureen Watson. I also love the role of the nurse and her relationships with the other characters!"

Romeo and Juliet is a classic 16th century tragedy.Two feuding families, the Montagues and Capulets, are introduced in the beginning of the show. After having his [Romeo] heartbroken by Rosaline, He is invited by his best friend, Benvolio (played by Junior Spencer Blanchard) to a Capulet party. At this party, Romeo meets, kisses, and falls in love with Juliet Capulet; a member of the feuding family. This poses a problem for Juliet because she also fallen in love with this boy but her parents, Lady Capulet and  Capulet, has a husband lined up for her.
After only knowing each other for 3 days, they decide to get married in secret. Nurse, Juliet's mother figure, and Friar Lawrence (played by Junior Grey Cuevas), the town priest, make this marriage become a reality. After getting married, her father finds out and moves her real wedding with her suitor to be, Paris, the day Romeo is set to be exiled. Having been accused for a fight turned fatal in the town square, Romeo accepts this fate and says goodbye to his wife for the last time. Juliet, hysterical, goes to Friar Lawrence and ask him to put her under a sleeping potion which will make her appear dead but she actually isn't. Everyone in the town believes that she is dead and when Romeo finds out, he freaks out. Being by her side, he kills himself to be with her but plot twist- Juliet wakes up right after Romeo has died. Not knowing what to do, she kills herself to be with him, two star crossed lovers together at last.
In 5 weeks, this blast from the past will be be open for all Xavier and Brophy students to experience this tale of love and loss. You can see this fabulous show in Brophy's Blackbox Theatre on November 15, 16, 17, 29, 30 or December 1 at 7pm!