Hot air balloon ride experience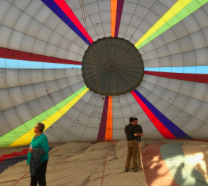 Hang on for a minute...we're trying to find some more stories you might like.
I went on my very first sunrise hot air balloon ride on America's largest hot air balloon! It was breathtaking and so incredibly peaceful. This momentous balloon ride on Sept. 30 started off with a drive to the launch site in Cave Creek. This is where the balloon pilots assessed the wind speed to make sure it's perfect weather for flying. Fortunately, the wind was very calm on that Sunday morning, and we were able to embark on our journey.
My mom, brother, and I watched in anticipation as the pilot and crew members set up the balloons. Everyone was assigned to the balloon basket that could fit 30 people! There were two balloons going up that morning, and they both had beautiful vibrant colors and sunset designs imprinted on them. The crew set them out on the dirt and then fired them up with hot air. It was a captivating process to watch it go from fabric on the ground to a gorgeous round balloon.
The balloon ride was extremely peaceful and the views below were breathtaking! Brophy Senior Triston Martinez found himself worrying, "What if my phone falls out when I am taking pictures!". We were flying 5 miles per hour at 1,275 feet. I kept thinking about how different the world looks from this perspective. It was beyond gorgeous and an experience of a lifetime!