Xavier students conquer the Congressional App Challenge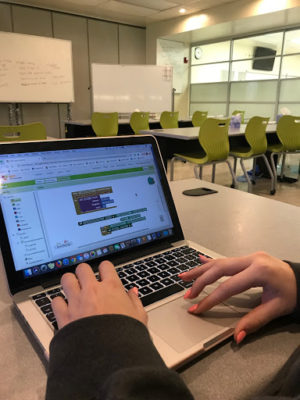 Kit Blouin, Class Writer
November 19, 2018
Hang on for a minute...we're trying to find some more stories you might like.
Every year since 2013, members from the U.S. House of Representatives host the Congressional App Challenge throughout various districts. The end goal is to promote coding and STEM technology to teens in middle school and high school through inspiring and innovating. This year, three Xavier students and one Brophy senior worked together through their AP Computer Science Principles course, taught by Xavier teacher Katherine Wyman, to create and complete their app, called N.O.W. News. The app was is meant to find sources that are unbiased and to help spread awareness to fake news. Through the app, one searches for articles, which are then examined to determine what bias it may or may not include.
The four students: senior Fiona Donovan, junior Madeline Tribolet, junior Tessa Gaynor and senior Ryan Gardner, began working on the app early in September and completed it over the following weeks. Gaynor explained the process of creating the app, "We worked on it in class a lot, it took us about a month. First, each of us had to do our part of the app, and in the end, we put it all together on one computer onto MIT App Inventor, which is the app maker we used and after that, we submitted it". Gaynor also explained how her team developed the idea for their app, "We wanted to think of something that would be relevant in the world today and since there is a lot of focus around fake news and stuff, we wanted to bring awareness around propaganda."
Once the app was turned into Kyrsten Sinema, the District Nine representative, the Xavier students' app was chosen as the winner for the district. Among them, there are various other winners throughout the additional eight districts in Arizona, each holding their own creative app, like junior Caroline Hink's group with her app "Feed the Need". Various other Xavier groups from the AP Computer Science Principles class submitted their apps for the challenge but only one would win within Xavier's district. For this small group of coders, the grand prize is an opportunity to have their app on display in the U.S. Capitol building in Washington, D.C. for the following year.
This app, N.O.W. News, is a testament to the innovation and creativity that these Brophy and Xavier students hold and gives hope for their future projects. In our modern day society where fake news and political propaganda is everywhere, N.O.W. News can reach a wide audience and provide many with the tools to make the right decisions, especially when it comes to voting and being informed on the topics our society faces.
Congrats to our Xavier/Brophy coders!