Red Carpet attire becoming political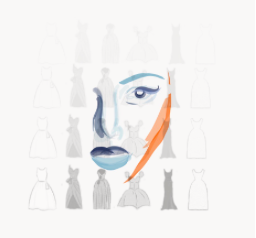 The Red Carpet entrances have historically been a time for America's favorite Hollywood idols to pass the flashing cameras, showcasing their beautiful, extravagant outfits as they head into an award show event. Previously, the public has anticipated and marveled at the incredible couture outfits, admiring at the array of cuts, colors and trend-setting styles. The celebrities are often asked "Who are you wearing?," referencing the big name designer involved with the garment. As expected, dressing a star is an industry. But, recently, the attention has shifted from the clothing itself to the underlying political message that both female and male A-listers have began to incorporate into their ensembles.
We have seen examples of this during 2018's "Time's Up" movement at the Golden Globes as a statement against sexual harassment. As a result, everyone wore black. Although this was a mass stance advocating for change, individuals have also been seen exhibiting their personal beliefs. At the 2018 Emmys, celebrity Padma Lakshmi re-wore a dress hanging in her closet as an attempt to raise awareness for recycling and environmental concerns. She did not just stop there for she also pinned a blue ribbon on her dress to display her support for the American Civil Liberties Union. Some more direct examples of political stances appearing on Red Carpet outfits were RuPaul's support for immigration through his white suit printed with the Statue of Liberty and Sarah Sophie's clear stance on the Kavanaugh case by writing "Stop Kavanaugh" on her arm.
When did this shift occur and is this what the public wants to see from their favorite stars? Actors no longer feel relevant just wearing beautiful clothes nor are they focused on making Vogue's' "Best Dressed List." Rather, instead of being asked about their fashion, they strive to make a difference in the world, and turn their answers into a politically opinionated comment.
One might agree that award shows are not the place for politics. Senior Emme East says that, "I think that it is someone's own prerogative to wear what they wish whether they're famous or not, but as for walking a red-carpet and being broadcast globally, why would anyone want to wear something that looks like that? [referring to Joy Villa's pro-Trump dress]. Not to mention bringing politics into such types of settings is counterproductive and frankly aggravating; it does nothing but shift focus off of the overly-elaborate parade of self glorification and wealth all jammed into a single room with some of the wealthiest and most famous people in America."
In opposition, Senior Abbey Alexander mentions "I see no problem with dressing politically on the red carpet, as long as the message you're spreading is one of acceptance and equality, like wearing ACLU pins or the 2018 Golden Globes where actors wore black in support of sexual assault survivors. I think the issue is when the "political fashion" is spreading messages of hate." In conclusion, despite the wavering opinions on the new Red Carpet fashion, there is no doubt that these outfits are effective in stirring topical conversations and becoming much more than a fashion show.
To continue reading about the debate surrounding politics in award shows, with articles written by East and Alexander, click here.