Hidden Gem Classes at XCP that require handiwork
As Xavier students prepare to choose their schedule for the upcoming school year, choosing classes can certainly be a challenge, especially when students are not fully aware of the classes that Xavier has to offer. The truth is that Xavier caters to everyone's taste and abilities. Students will always have different interest in classes, and to match with that, Xavier has many choices to offer its students. Below are a few of these classes.
Maker's Class is open to Sophomores, Juniors, and Seniors and does not require any prerequisite. Maker Class explores the various tools, techniques, and systems that exist for students to create computer interactive projects while also learning basic assembly skills. Students learn basic woodworking, welding, soldering, basic circuit design and electronics, and microcontroller programming using Arduino. The final project for the class is a project of the student's choosing utilizing the skills learned in the class.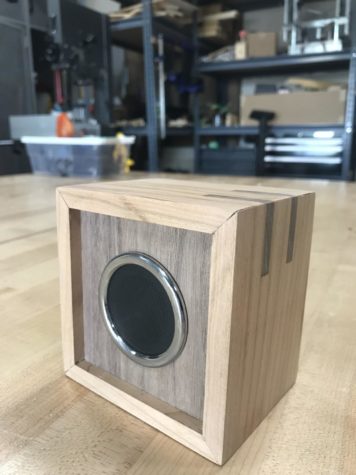 Mr. Ward, who teaches the Makers Class at Xavier, as well as Sculpture and Robotics, talks about the class' effect on students as they are able to "discover their power through the class, they have the ability to change their own environment."
Another class is Women in Film, taught by Mrs. McMahon Ward is open to Xavier and Brophy Sophomores, Juniors and Seniors but requires a prerequisite of Introduction to Cinema. The class focuses on the significant participation of women in front of and behind the camera. Emphasis is placed on the historical contributions of women writers, producers and directors and the recent increase in the number of women actively involved in the production of feature films. Attention is also given to screen images of women and how they reflect the American culture.
Senior Abigail de Leon described the class as one " that celebrates women's accomplishments on and behind the screen along with recognizing their struggles within our society for gender equality and opportunity. It is a class to praise so many glorious female artists from all generations."
Additionally, AP Research, which is apart of the AP Capstone Program by College Board, requires its students to have successful completion of the AP Seminar course with an AP score of 3 or higher. AP Research, however, is the second of two courses in the AP Capstone TM program. In AP Capstone, the program allows students to develop research, collaboration and communication skills by taking two courses in sequence: AP Seminar and AP Research. This two-course series is designed to prepare students for college, but also facilitate overall success and academic curiosity. The program allows students to challenge themselves academically by being able to show their passion and interest in specific research topics. This also helps transform students into independent thinkers.
AP Research allows students to deeply explore an academic topic, problem, issue or idea of individual interest. Students will design and plan, a yearlong investigation to address a research question. Through this, they further the skills they acquire in the AP Seminar course by learning research methodology employing ethical research practices and accessing, analyzing and synthesizing information. Students reflect on their skill development, document their processes, and curate the artifacts of their scholarly work through a process and reflection portfolio. The course culminates in an academic paper of 4,000 – 5,000 words and a presentation with an oral defense.
Senior Shea Sciarappo, who is currently taking AP Research with Mrs. Prins, tells about how "AP Research has taught me how to look into a topic and form a credible conclusion or solution to the problem. This class has given me the confidence to present in front of people and know that I am being heard." She believes that "everyone should consider taking AP Seminar and Research, [for] it opens you up a world of opportunities and you learn something new every day."
Oil Painting, which is directed by Mrs. Dunn, requires a prerequisite of Introduction to Art or Beginning Drawing/Painting. In this course, students apply the skills and concepts learned in Beginning Drawing/Painting to the medium of oil painting. Students are introduced to the foundations of oil painting materials and techniques, including traditional and contemporary methods. Emphasis is placed on painting from still-life and photographic references. Art history and art vocabulary are integrated throughout the course.
Senior Kolbe Pierce, a student in oil painting, enjoys expanding her skills in art and finds enjoyment in discovering new art forms and creating paintings herself. Unlike Drawing, Oil Painting adds dimension and texture, which makes it unlike other forms of art.