Computer Science Honor Society Comes to XCP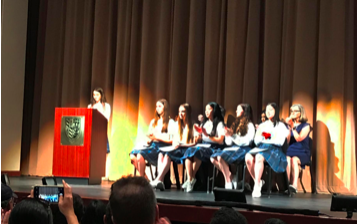 Hang on for a minute...we're trying to find some more stories you might like.
 On Tuesday night, over one hundred Xavier students were inducted into the Sr. Mary Kenneth Keller BVM Computer Science Honor Society as founding members.  In the past years, Xavier College Preparatory was home to various different honor societies, but none of them connected to the study of computer science. This honor society is an innovative new way for XCP students to become more involved in  computer science related opportunities throughout the campus. The society was named for Sr. Mary Kenneth Keller who was the first woman to earn a Ph.D in the field of computer science. She broke down barriers preventing women from engaging in the study of coding and computers. In many ways, this society aims to continue the work of its namesake within the school's community.
The Computer Science Honor Society was founded with a very specific mission. Not only is the subject of computer science becoming more prominent in curriculums across the country, but it is also incorporated into other areas of STEM related studies.   After taking the introductory course to computer programming during sophomore year, many students choose to pursue this subject in AP level courses. When asked about what inspired her to bring the Computer Science Honor Society to Xavier, Mrs. Wyman explained that:  "It is the hard work of my students that motivated me." She hopes to reward her students efforts with an opportunity for enrichment in the subject. 
The computer science program at Xavier has already created a community within the school centered around organizations such as the IT club, and events like Girls Have IT Camp.  Mia Parham '20
was a counselor at Girls Have IT Camp this past summer, described the impact  she believes her membership in the Computer Science Honor Society will have.
"In the future, Computer Science Honor Society will help me to inspire other girls to get more involved in the fascinating subject of coding and computers."  Her statement is an example of how this honor society is already bringing students together in order to pursue their computer science related goals. 
The first year of the Sr. Mary Kenneth Keller BVM Computer Science Honor Society is an exciting time for those inducted, and for those who look forward to being inducted in the future.  As it continues to grow, this honor society will give Xavier students an opportunity to expand their understanding of computer science locally and globally.