Student Athlete Highlight: Oliva Petrine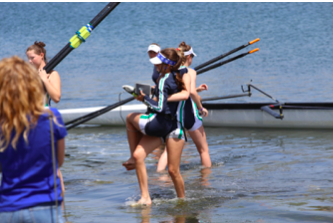 Hang on for a minute...we're trying to find some more stories you might like.
Balancing athletics and rigorous academics can be a major challenge for many high school students. Participating in a sport not only takes a consistent work ethic but requires that students refine their communication skills while working together toward a common goal. Being a part of a team puts an emphasis on positively impacting each other with respect, as well as creating a family. Xavier senior Olivia Petrine '19 is the coxswain on the crew team, so she is the team member responsible for steering the boat. She has been participating in this sport since her freshman year. Petrine says, "I love having a family within my team because it creates a type of bond that is greater than any rowing experience. It is bonded by trust, loyalty, and most importantly, love."
As a student-athlete, Petrine has felt motivated every day to work hard, be grateful, and be kind. But, her responsibilities extend far beyond being an athlete. Petrine states, "I've always been hard-working and I work well under pressure. I think I've had to find a balance in keeping my grades up." Being a student-athlete requires a significant amount of time, dedication, and hard work. Considering that athletes practice long hours throughout the week, on top of homework and other outside activities, time management becomes the main foundation for their overall success. Petrine spends about twenty hours a week at practice and a few more commuting. She has found it essential to arrive at school early to do her homework, instead of at night, so she can get proper rest and take advantage of the time to work ahead. Developing such discipline contributes to her individual growth and her goals of striving for greatness. One of her pre-race rituals takes place an hour before her first race. She takes a nap to relax and then spends some time alone listening to music and watching recordings of previous races. Petrine uses visualization to boost her self confidence and keep her eye on the prize. Her work habits, both in and out of rowing, have earned her acceptance to San Diego State! Petrine has verbally committed and plans on signing in November, At San Diego State she plans to study biology!