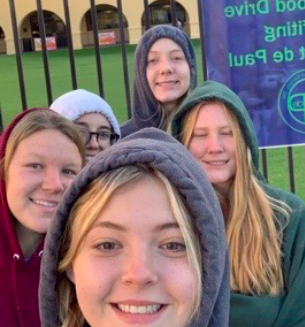 Every year, Xavier College Preparatory makes a generous donation of canned foods and money to St. Vincent De Paul, located in Phoenix, Arizona. St. Vincent De Paul is a Catholic organization that strives to live the gospel message by serving Christ in the poor with love, respect, and hope. As a Catholic community, Xavier loves working alongside this organization.
Around the beginning of November, the National Honors Society, moderated by Tara Metzger, sets up donation boxes to collect cans each morning at Bidwill Circle. Honors Society members are required to either bring in fifty cans or twenty-five dollars to the donation, but all students, regardless of enrollment in this society are eligible to participate in this wonderful project. All contributions, along with the student's name and homeroom teacher, are recorded to keep track of the success of the event.
On certain days, students are rewarded for their alms through a school activity called "Can your Skirt Day." After a student brings in five dollars (or 10 cans), they may can their uniform skirt for sweats or jeans! This is a big hit among Xavier students, especially as the weather gets colder. In addition to allowing students to can their skirts, Xavier rewards the home rooms that donate the most cans with a homeroom breakfast donut day. This motivates students in all grades to donate! This year, Mr. DiStefano's senior homeroom won the first 2019 homeroom breakfast. The juniors, sophomores, and freshmen homeroom winners will be announced over the intercom in the mornings for the remaining week of the food drive.
Students claim to love this event because the cause is great, and Xavier makes it fun and easy to get involved in donating! NHS member, Andrea Secord '20, says "The canned food drive makes a positive impact on our community." The motivation for participating doesn't just stop with Can your Skirt Day and the homeroom breakfast competition. Students can also gain service hours for their Junior year requirements, or team hours, by bringing in cans.
The yearn to participate in helping others runs in the blood of all Xavier students. There is a great sense of community that unites us in our passion to end world hunger.