Senior Stress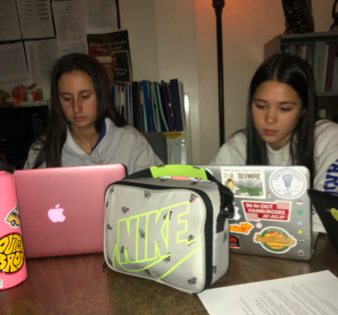 Fuzzy socks, cozy sweatshirts, and delicious foods are just a small fraction of the excitement brought about with the beginning of the fall holidays. At the end of October, people trade their skeletons and spider webs for cornucopias and child drawings of turkeys. The anticipation for the holidays is felt by almost everyone. Underneath all of the fallen leaves and joyous children, there is a group of people who are yearning for the end of the holidays rather than the beginning of them. Some of these are stressed and overwhelmed high school seniors of Xavier.
One of the reasons November is stressful for seniors is because the first round of college applications hits quickly. A majority of seniors will apply to colleges either early action or early decision in order to get a quicker admission decision. However, it's not only the deadlines themselves that seem to bring stress to seniors. It's the addition of school work, extracurricular activities, and "highly anticipated" holidays. When asked about the stress she faces as a senior, Maddie Skrovan 20' said "The majority of my stress comes from Early Action deadlines and my workload. I just feel like everything is hitting me at once to the point where it feels like I can't focus on anything but my work."
Another senior at Xavier, Emili Palmisano 20', describes her opinion of this by saying "A lot of my stress is from all the expectations I have placed on me to have perfect grades and be the best. Trying to live up to the expectations of my parents and my school is exhausting and sometimes overwhelming." Palmisano is voicing the worries of many of her fellow classmates. She is illustrating that like many other seniors, she has a lot on her plate that isn't solely focused on preparing for college. Palmisano is reminding everyone that seniors are also still students. They perform a balancing act that forces them to juggle their copious homework assignments and getting acclimated to the rigor of new advanced classes. On top of that, seniors are also trying to build their portfolios and work to get essays done for both college apps and classes. The expectation that they are more than capable of figuring out how to do all of this on their own and still get perfect grades only makes it harder. Most students are able to handle all the pressures they are facing but it does come at the price of both their mental and physical well being.
Finding ways to take care of themselves is vital for seniors during this stressful season. Senior Amaris Mori 20' explains how she takes care of herself by saying, "I set aside certain times to do specific pieces of homework. I also go to coffee shops so that I'm in an environment where I can focus more on what I'm doing." Setting aside time for homework and non-academic needs are equally important. One way senior Triniti Cheatham 20' says she takes care of herself is to "take a couple of hours off to relax and watch Netflix to get my mind off things." Taking breaks from your work can be helpful, especially if you're trying to center your mind and yourself.
The holiday season is meant to be a time that everyone, including seniors, can relax and enjoy. Although seniors may have a multitude of worries, they too deserve to take in the festivities of the season. When seniors stress about getting into colleges and making their applications perfect, it may help them to remember that no matter how challenging this process, a year from now everything is going to be completely different. In order to break out of the stress, seniors should make efforts to spend time with their family and friends before these valuable moments are lost.