Student-Athlete Spotlight: Jasmine Knight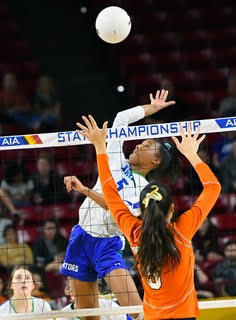 Volleyball is a sport that requires physical skill, as well as mental strength. An athlete must achieve and maintain a strong sense of self-belief to execute a skill successfully. Jasmine Knight '20 is a key member of the Xavier College Preparatory Varsity Volleyball team. While she may be most recognized for her determination on the court, Knight's classmates and teachers notice her efforts off the court, as well. In addition to being a part of the volleyball team, Knight is involved in the Science Club, Unity and Diversity, and Presidents Council. Aside from these clubs and activities, Knight spends the majority of her time practicing volleyball and maintaining her grades. With practice time adding up to around 10 hours per week, Knight has learned to perfect her time management skills, as well as keep up with her grades and social life off the court.
Every athlete has their own pre-game traditions before a big match. Knight adds that she tunes out the sound of her nervous heartbeat with Drake's music. This helps her get hyped up and improves the quality of her performance. When working together as a team, each athlete is able to recognize each other's efforts and boost their confidence with encouragement. In this way, a team is a lot like a family. As a dedicated athlete and student, Knight believes that "the importance of being a family within a team, is to be able to be close with everyone since everyone wants to achieve the same goal of winning."
Learning to value skills such as dedication, commitment, and an understanding that hard work leads to good outcomes is essential within a team because "in the end, everyone needs to be on the same page, which is why being a family is so important." Knight's biggest supporters and inspiration are her parents. "They have always wanted me to strive for the best in everything I do, especially volleyball." They help her with advice on how to deal with situations on and off the court.
` Knight has committed to Virginia Commonwealth University, located in Richmond, Virginia, where she will continue to play volleyball for four years. There, she wishes to pursue a degree in Interdisciplinary Studies focusing on Psychology.
Knight is incredibly grateful for the opportunity to attend Xavier over the years and has made it a priority to share her talents with the community, making her time here as impactful as possible. Between school, sports, and social life, Knight emphasizes that finding a balanced schedule is possible with the support from family and friends!