Principal Appreciation Day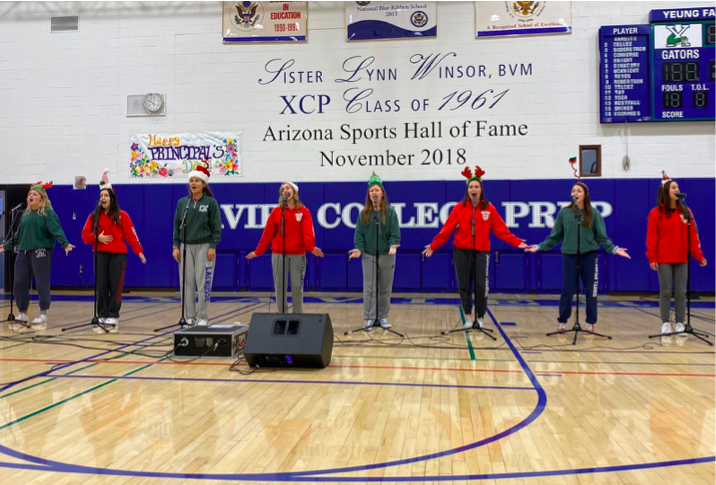 Every November, Xavier College Preparatory celebrates its principal, Sr. Joan Nuckols, BVM, on Principal Appreciation Day. 
Sister Joan began working at Xavier decades ago, impacting its community in tremendous ways. Sr. Joan's time at Xavier dates back to 1974 when she began at Xavier as a history teacher. In her time at Xavier, Sr. Joan has also served in the positions of Department Chair of Social Studies, Vice Principal of Academics and Campus Ministry. Currently, Sr. Joan Nuckols serves as the Principal of Xavier College Preparatory.
The annual Principal Appreciation Day is a long-standing tradition at Xavier. As part of the celebration, all students attend an assembly organized and run by the Executive Board Student Council. The focal point of the assembly is an exciting musical performance by the Executive Board students who write a creative song. Both faculty and students look forward to watching this performance and appreciate all of the hard work that the Executive Board puts into running a smooth assembly. Executive Board Public Relator Brianna Butkiewicz '20 says "the tradition is so fun because it really brings the community together in celebration of the faculty, especially Sister Joanie." 
Executive Board Treasurer Maddy Skrovan '20 added the Executive Board "threw out a lot of song ideas, but decided on Mariah Carey's smash hit 'All I Want for Christmas is You' because everyone knows and loves it. We thought it would be a good way to kick off the Christmas season."
Brianna Butkiewicz '20 says the songwriting process "actually took a pretty long time" and Executive Board "started brainstorming in August for potential songs," adding "it took a few weeks to perfect the lyrics. We [also] had to practice the performance outside the whole week leading up to Principal's Appreciation Day."
Xavier congratulates Sister Joan for all of her tremendous hard work and appreciates what she puts into the Xavier Community. Her hard work and positivity lift the spirit of the school and community daily. Xavier is so excited for the upcoming years with Sister Joan leading on campus as our Principal!