Christmas in the Desert!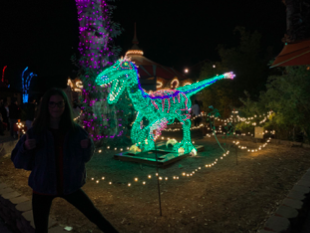 Hang on for a minute...we're trying to find some more stories you might like.
Living in one of the largest cities in the country comes with a lot of perks, one of those being the multitude of festivities available during the holiday season. Once Thanksgiving hits, Christmas decorations pop up all around the valley and the festivities begin. A popular choice among many families is paying a visit to Santa Claus, as every mall throughout the valley consists of children that cheerfully await the opportunity to meet Santa. For those that have grown out of that stage, there are also plenty of other activities that celebrate the joyfulness of the holiday season.
Zoolights at the Phoenix Zoo is one of the most popular holiday venues in the Phoenix area. Throughout the years, it has expanded as there is not only an array of lights that embrace the Christmas spirit but other activities available for guests to enjoy. Zoolights: Glow Wild started this year on Nov 27 and lasts until Jan 19, these holiday lights are up every night from 5:30pm to 10:30pm. While at Zoolights, Christmas music can be heard throughout the park and multip
le venues sell festive food and drinks such as hot chocolate! Other activities include the Polar Slide, which is exhilarating (especially for kids), as well as a photo opportunity with multiple reindeer. The zoo animals are usually out around the time of Zoolights, but such exhibits may be limited to their accesibility. A new addition to Zoolights this year is the Wildlife Lantern Safari. This addition consists of safari-like animals, imported from Africa, that can be admired by guests while walking through a trail of lanterns, celebrating the traditions of the Chinese New Year. Zoolights also offers value nights, where tickets are a few dollars cheaper, but a general admission ticket is $19.95. Tickets can be purchased online or at the door. Head out to Zoolights: Glow Wild for an extraordinary and festive holiday experience!
https://www.phoenixzoo.org/event-items/zoolights/
World of Illumination is a light extravaganza that has locations in both Tempe and Glendale. It has been growing rapidly in popularity over the last few years, as it is a common nighttime activity among teenagers and families alike. Parties of people pile into vehicles and drive through this illuminated area consisting of over 2 million lights while tuning into Christmas music on the World of Illumination radio station. Tickets are $40 per vehicle to visit anytime of the day, but the prices are reduced to $33 on Friday through Sunday nights and $23 on weekday nights. At the end of the drive-through you can purchase kettle corn and hot chocolate. Additional light structures such as decorated Christmas trees surround these vendors. Take a trip to either of these locations to visit this striking, beautiful light performance! 
https://worldofillumination.com/#location
The annual holiday spectacular at the Desert Botanical Garden is known as "Las Noches De Las Luminarias". This event includes trails consisting of over 8,000 luminaries that line the park's gardens as well as exhibits that showcase a variety of creatures and vegetation. Las Noches De Las Luminarias is open from 5:30pm to 9:30pm on the dates of December 6th to 8th, 13th to 15th, 17th to 23rd, and 26th to 31st. The general admission ticket is $34.95 and there are multiple food and drink locations around the garden to purchase delicious food and drinks. While enjoying the tasty meals offered, you can enjoy the sounds of Christmas carolers as well as the multiple light performances that are put on throughout the night! Tickets can be bought online and sold at the door. To admire the spirit of the holidays and the wonder of luminaries, Las Noches De Las Luminarias is the perfect place to celebrate this Christmas season!