Catholic Schools Week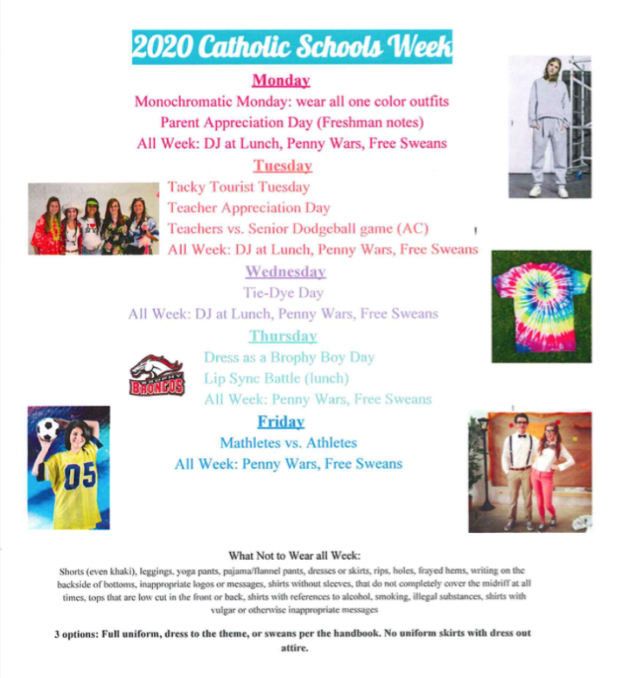 Between January 27-31, 2020, Xavier College Preparatory, along with every other Catholic school nationally, celebrated Catholic Schools Week with a week full of events, celebrations, and assemblies. 
         Monday, January 27, 2020, marked the first day of Catholic Schools Week. Xavier's Executive Board created a fun-filled calendar of events and free dress days for faculty and Students. Here is a glimpse into how the Xaiver community celebrated and honored Catholic education:
         Throughout the whole week, each class competed against each other in the battle of Penny Wars, students were able to wear free sweans daily and there was a DJ at lunch. Penny Wars is a fundraising game played by the Xavier community to raise money for charities. The purpose of Penny Wars is to be the class with the most amount of money in their class bucket by noon on Friday, January 31, 2020, the final day of Catholic Schools week. Students bring in pennies to donate to their respective class bucket and also bring in silver coins or dollar bills to place in any of the three opposing class buckets. At the end of the week when the donations are counted for each class, pennies count for a positive for a class and silver coins or dollar bills count as a negative against that class' total amount of money. So, to be the winning class, students must not only bring in the most amount of pennies but also bring in silver coins and dollar bills to place in the opposing class buckets to lower the opposing teams' totals! Penny wars is a very competitive game for the Xavier students who enjoy playing because not only are their donations going to a good cause, but the winning class receives donuts during homeroom the following week.
         Monday was Monochromatic Monday! Students were permitted to leave their plaid skirts and polos at home and wear an outfit of all one color. Last Monday, Freshman also wrote notes in class to their parents for Parent Appreciation Day.  
         Tuesday was Tacky Tourist Tuesday! This was by far the best-themed outfit day. Students were extremely creative and dressed up in their most tacky tourist outfit and made their fellow classmates and teachers laugh. Tuesday was also Teacher Appreciation Day and at lunch, there was a "Senior vs. Faculty Dodgeball game". Teacher Appreciation Day and the dodgeball game was a wonderful way to show our teachers our gratitude for everything they do as well as have fun while playing dodgeball against them.
         Wednesday was Tie-Dye Day.  Students broke out old tie-dye clothing from the back of their closet and wore it to school for the day. Some gators wore simply a tie-dye shirt while others styled matching tie-dye sweat outfits and colorful accessories. 
         Thursday was the legendary "Dress Like a Brophy Boy day".  Students were permitted to wear any clothes they thought resembled a Brophy boy. For example, a red and black tie, khaki shorts, a polo shirt, a white button-down shirt, or a Brophy jersey. During lunch on Thursday there was also a lip sync battle for all students and faculty to compete in. This was a great activity for students and faculty to come together and enjoy our tight-knit Catholic community at Xavier.
         Friday was themed "Mathletes vs. Athletes". Students dressed up as a math wiz or as an athlete for the last day of Catholic Schools Week. Some students arrived at school dressed as the typical stereotypical outfit for an academic wiz with glasses, suspenders, button-down shirts and high socks. While other students wore jerseys of their favorite sports teams or their own Xavier sports team jersey.
         Catholic Schools Week was a fun-filled week that not only brought us closer within our Xavier community, but also allowed us to connect with other Catholic schools around Phoenix and across the country.