The Return of Girl's Have IT Day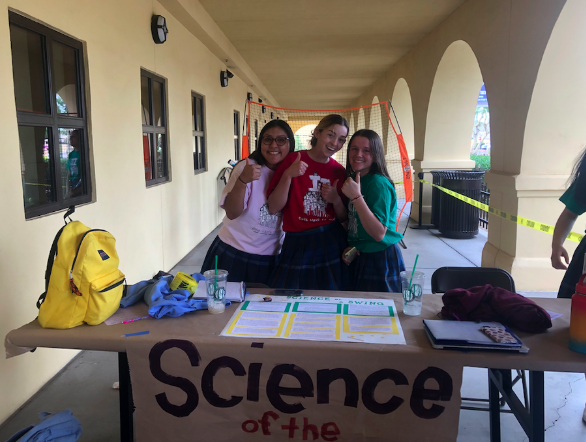 Camy Rael and Emma McCarthy, Class Writers
March 9, 2020
Girls Have IT Day has been a long standing tradition at Xavier College Prep, and this year it is scheduled to make a comeback on Friday, February 21st. This day is part of a student led outreach program that aims to introduce middle school girls to the fields of science, technology, engineering, and math. Different clubs and individuals organize engaging activities, and create a hands on experience that is extremely memorable for young girls. The event hopes to connect with Title 1 schools across Phoenix as it aims to help underrepresented students have the opportunity to learn about the possibilities within STEAM (science, technology, engineering, arts, and math.)
Thanks to the diligent effort of Xavier students, the event was brought back this school year after being cancelled in 2019. While the camp that replaced this "GHITD" was very successful, few students could forget about the impact that this important day had on them during middle school. This year's GHITD was designed to follow a similar format in comparison to past years, but it has also drawn a much larger group of middle school students than expected. Another unique aspect of this year's event is that Xavier students were responsible for initiating and organizing the event's return. Joey Hernandez Mena '21 and Serena Turner '21 both served on the GHITD committee, and were happy to share some of the reasons that motivated them to get involved.
When asked about what inspired her to discuss bringing back GHITD with Xavier's computer science teacher, Mrs. Wyman, Joey explained, "I remember being a part of it my Freshman year and leading an activity called "The Science of Cotton Candy." I made a poster board and brought my cotton candy machine. I remember that that day was one of my favorites as a freshman. I loved teaching girls about cotton candy (also learned some cool things myself) while we snacked on cotton candy. This day is an inspiring day for middle schoolers and high schoolers alike. When I became a part of CSHS, I knew I had the power to bring it back. I eagerly went to Mrs. Wyman with my proposition and with the help of my amazing committee we have 350 middle schoolers signed up to attend!" This experience really reflects the positive impact that GHITD has on Xavier students who participate in the event. There are so many unique ways to get involved, and it teaches students exciting new skills. 
Following this, Joey and Serena explained why they feel it is important that young girls gain exposure to STEAM. Serena provided background on the situation, stating, "While the gender gap is decreasing in STEAM fields, it still does exist. Women have little representation in these male dominated fields. By exposing STEAM to middle school students early on, it can spark an interest and also build confidence." Joey added on to this saying, " A really big goal of GHITD is to aim for Title 1 schools. These schools are attended by kids who come from lower income homes and receive funding from the government. Jaime Casap, a Global Education Evangelist from Google has said that he 'believe[s] deeply in education because in [his] heart [he] know[s] it has the power to disrupt poverty and to change the destiny of a family in just one generation,' thus, not only are we encouraging girls to be more involved in STEM, but we are also promoting the importance of education in STEM related fields. All of this is for the ultimate goal of 'disrupting their poverty and changing their destinies'."
Joey also explained what might be different about this year's GHITD in comparison with past years. "This year we implemented the old design of the event, but after some reviews, we decided to bring back the booth design where the girls can choose whichever STEAM activity they are interested in. Also, instead of Founders, we will be in Vestar Hall, the Alumnae Courtyard, and the parking lot this year." In this way, this year's GHITD will build off its prior successes, so that the event will run smoothly. 
When asked about what they were most excited for regarding GHITD, both students had similar answers. Joey explained, "I am most excited to see how the Xavier community comes together for a large goal. Because this event was so personalized, we are excited to see what all the Xavier girls have to offer and the combined fruition of everyone's hard work." Serena added on to this saying, " I am excited for the middle schoolers to experience all the fun activities! Each activity incorporates a fun and interactive learning experience touching upon an aspect in a  STEAM field. I cannot wait to see the joy of the middle schoolers!" Their answers really show how GHITD brings the entire Xavier community together to accomplish an important mission. 
 The goal of the event is to create tons of fun STEAM activities in booth format, that way the middle schoolers can walk around and pick which ones they want to visit. This year there was a total of 58 booths with approximately 150 current Xavier students volunteering. Ranging from making your own lip balm and bath bombs to "the science of a swing" and jenga, there were all sorts of ways for girls to participate! Middle schoolers could be spotted walking around with their new creations, playing games, or even learning dances! The event lasted from 1-3 p.m. on Friday, February 21, and spanned from the parking lot and hallway into the alumnae courtyard and Vestar Gym. Other unique aspects included a DJ area and the awesome GHITD committee who passed out awesome gifts, like Xavier bags and reusable straws!
Middle school girls at the event were ecstatic about the opportunity to learn about STEAM in a hands-on way. Mia, a 5th grade attendee, was most excited to "learn new facts and more about technology, science, and math." The girls who attended also seemed to really love the all-girls aspect of GHITD and of Xavier. 7th grader Aubrey shared, "I'm excited to see other females and how they express themselves. And the fact that many women in this school have different priorities, but are still a strong group. I've always been interested in STEAM but this really makes me feel like I can express myself
and not be judged." Mrs. Wyman, computer science teacher and head of GHITD shared that 93% of girls that attended said that they were inspired to work harder in school to make a difference middle school girls interviewed about their experiences, all said that they felt this increased their interest in the STEAM fields. Xavier volunteers were proud and excited to be able to help introduce these girls to STEAM. Junior Simone LaMagna who worked a booth at Girls Have IT day felt, "It was exciting to be able to teach the middle school girls about math and science. Watching them learn and have fun with it was my favorite part."
Overall, Girls Have IT Day was a complete success. With a final number of 300 attendees, and 50% from various Title 1 middle schools, the event was filled! The GHITD Committee did an incredible job organizing the event and created a buzzing atmosphere full of excitement and creativity.