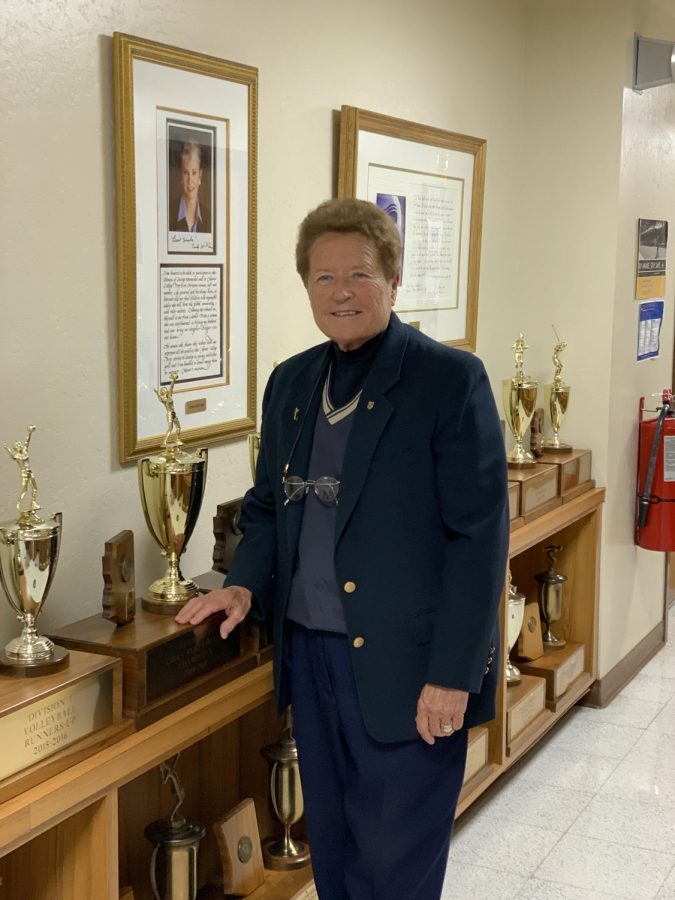 April Tanner/XPress Photo
On December 14, 2021, Xavier College Preparatory's athletic director, Sister Lynn Winsor, will be inducted into the National Interscholastic Athletic Administration (NIAA) Hall of Fame in Denver, Colorado. 
Since the organization's establishment in 1977, the NIAA has worked to celebrate and support athletic directors across the country in their missions to provide athletic opportunities for students. 
The NIAA Hall of Fame honors "athletic administrators who had exemplary careers in athletic administration both prior to as well as after the formation of the NIAA." 
Winsor is truly honored to be installed in the Hall of Fame. "When you get to the end of your career, no matter what it is…it's nice to know you are appreciated for the things you tried to do," she said.
Her incredible accomplishments over the past 44 years serving as an athletic director truly support her exemplary career. From leading the Xavier golf team to 35 state championships to creating and upholding a supportive and positive athletic environment, Winsor's achievements are nothing short of incredible. 
This is not Winsor's first time being recognized by the NIAA. She has been heavily involved in the organization since 1982, attending every conference except one, due to the passing of her assistant Athletic Director. A few of her numerous previous accolades include the Distinguished Service Award and the NIAA Award of Merit, which is the highest honor.
Winsor was the second female president of the NIAAA and has focused on two major goals: promoting diversity in leadership and improving the organization's public relations. "Our organization is very open," she said, "it's diverse." 
She believes her experience with the NIAA has been extremely rewarding, granting her new knowledge and skills to better assist Xavier College Preparatory Athletics. She said, "Everything you learn, you learn there. Everybody shares."
Winsor is truly beloved on and off the field, by coaches, athletic directors, parents and students alike. Ansley Burns, a varsity athlete in the class of 2022, said, "She has created an environment that is so supportive of all athletic teams, which allows me to keep a positive mindset and get excited to represent Xavier." 
Even despite the struggles that Covid-19 has brought to school athletic programs, Winsor and Xavier have managed to keep athletics at the top of their game. "The kids want to play," she said. "We've had more kids trying out for sports this year than any other year." 
Winsor is truly appreciative of the incredible coaches, staff and athletes at Xavier, stating, "I couldn't do all of this without Sister Joan, who was the principal at the time; Sister Joanie and my staff…we work as a team and we get everything done."
Winsor is not planning on retiring any time soon and hopes to keep supporting athletics at Xavier and throughout the country.