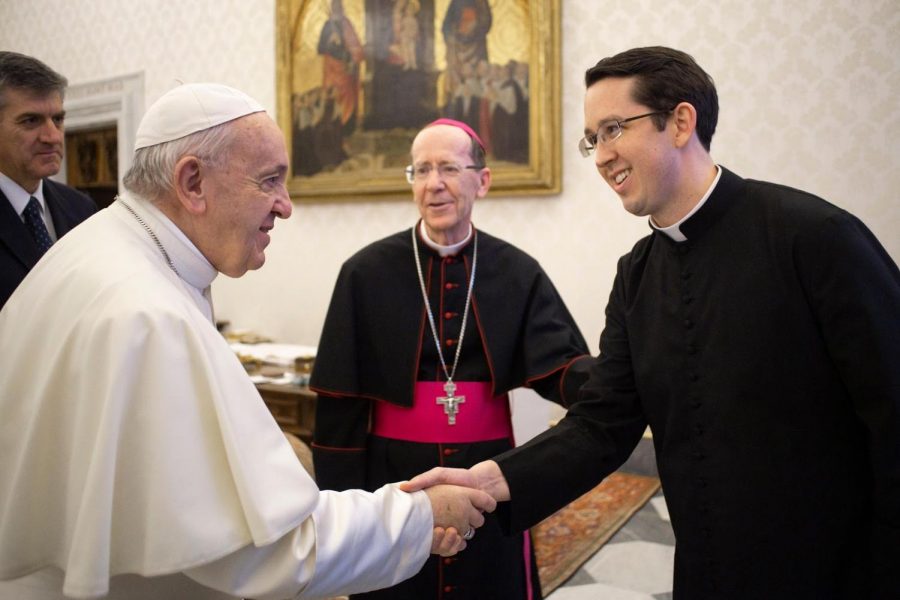 Father Nathaniel Glenn joined the Xavier community last May of 2020. Since he was very young, Glenn always wanted to be a priest. His wish finally came true after nine years of study, learning and traveling.
Glenn was born and raised in Arizona as Catholic. His family went to Mass every Sunday and he was very active in his church.
"Here's what my parents have handed on to me and am I going to accept this and make it my own or am I going to carve out my own path?" asked Glenn of himself.
His answer was a big, "yes!" He knew that this was his faith and the path he wanted to take.
He was always interested in becoming a priest but there was a gradual building to his decision to make it happen. There were two key events in Glenn's life that really impacted his decision. 
When he was 11 years old Glenn read a book called "Prove it! Church" by Amy Welborn. The book answered a lot of questions he had about the Church. 
The book provided background information on the faith, and why Catholics do and believe in certain things, as well as the thought process and thinking behind those beliefs.
The second event that impacted Glenn's decision to become a priest was a retreat he volunteered at his senior year of high school. It was a freshman retreat and his group was all girls, which he believes was foreshadowing his future job at Xavier.
At the retreat, Glenn loved talking with the girls and sharing the faith with them. They had a Holy hour where Glenn prayed, which was impactful for him. "Leaving that day, I just had a really clear sense that this is what I want to do for the rest of my life."
Glenn's brother, Andrew Glenn, Music Director at St. John Paul II Catholic High School, says that everybody knew Glenn was going to be a priest. Even at kindergarten career day Glenn said 'I'm going to be a Priest.'
One of Glenn's friends even waited for him to be ordained so Glenn could marry him and his fiancée.
Andrew describes his brother as passionate, driven and different in a really good way. His favorite thing about Glenn is that he isn't afraid to let who he is shine through and let people see it.
Glenn is a good brother, likes to do his own thing and knows his limits. Andrew's favorite memory with his brother was during a vacation Bible school at their Church. It was a camp theme and Glenn dressed-up as a 'washed up pop star.' 
Some of the teens helping out at the Bible school took photos of him doing funny poses while he held his Guitar Hero guitar around his neck all week. They printed large photos of him and hung them all over their church for the week. The teens thought he would be embarrassed by this but Glenn took four of the large photos and hung them on his bedroom door for 2-3 years.
Since Glenn has been at Xavier he fell in love with Xavier and its community. He says that eight or nine months in he realized he just really cared about everyone at Xavier, from the staff to the teachers and to every student. 
He appreciates the loving, generous and caring community in which he was placed. "In a year that we've all been going through with the pandemic and all the strange things, people have really gone out of their way to make me feel welcome. The sisters have been really great to work with and have been really understanding," he said.
Danielle Burr, sophomore theology teacher at Xavier, met Glenn last August and was excited to have him at Xavier. "Father Glenn is a real priest. He is honest, authentic and aware of His need for God's grace to live out His call," Burr said.
During his time at Xavier, Glenn has learned how to care about the community and all the people at Xavier. He wants the best for everyone, and as he continues at Xavier he keeps asking himself, "As a Chaplain, how do I serve students whom I've never met?"