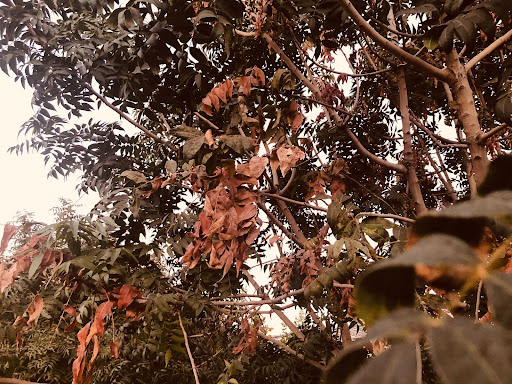 Xochitl Garcia/Club Photographer
A time of home-cooked meals, pumpkin spice and tabletop gourd decorations, the month of November is synonymous with the spirit of Thanksgiving. Celebrated on the 4th Thursday of every November, this year on November 25, Thanksgiving resumed its valued tradition in American culture. 
In 2021, Thanksgiving marked the time many extended families reunited for the first time since the pandemic. However, COVID-19 remains prevalent within the valley, with the average number of new cases reported in Maricopa County being 2,015 the week of November 28 according to "The New York Times." With the threat of the virus still looming, many Gator families kept their holiday gatherings relatively small.
Melissa Peña, Xavier's director of financial aid records and a WAX (We Are Xavier Club) food committee moderator said, "Typically the gathering place is my parents' house, so anyone who does not have a home, they know they are always welcome there. So we usually have many people who arrive unexpectedly. But this year, they kept it very small. My parents are much older now and have to take care of their health." 
Current Xavier senior Iscent George '22 said she celebrated Thanksgiving with her cousins in California last year but is unable to travel this year due to COVID concerns.
"My older brother moved out because of college, so sometimes he can come home, but this year he didn't come home, unfortunately. It's a little bittersweet celebrating without him but just knowing that we're still family and still celebrating is really nice," said George.
Thanksgiving celebrations in 2021 are a change from the large family gatherings that are a commonplace during the Thanksgiving season, but it is an adjustment some families were willing to make to keep their loved ones healthy. 
Even though the faces around the dining table were different from past years, many Gators still ate their favorite Thanksgiving family recipes.
"I'm Indian so we don't have American Thanksgiving traditions," George said, "But we typically make chicken biryani which is flavored rice with roasted chicken. It's really good."
Freshman Delaney Buckel '25 also shared her preferred Thanksgiving treat. "My dad makes sweet potatoes every year with caramel candies from See's Candies and they melt. It's really good," said Buckel.
Peña said that her favorite Thanksgiving food "would have to be the turkey and the special stuffing that my dad has created over the years. My parents are immigrants from Colombia and they came up with this stuffing in which they use rice and vegetables."
With Thanksgiving celebrations in abundance, the semester coming to a close and the holiday season approaching, Gators have a lot to be thankful for in 2021.
"I'm thankful for my friends, family and love!" said Buckel. 
"I'm really thankful for Taylor Swift's new album "Red (Taylor's Version)." It's so good," George said with a laugh, "but I'm also thankful for my family and am really happy to get college admissions out of the way."
"People are more thankful for things, especially with the pandemic," Peña said. "One of the main things I'm trying to do is to smile or greet anyone I pass by because I think we lose that on the day-to-day."
Loading…(function(i,s,o,g,r,a,m){var ql=document.querySelectorAll('A[quiz],DIV[quiz],A[data-quiz],DIV[data-quiz]'); if(ql){if(ql.length){for(var k=0;k