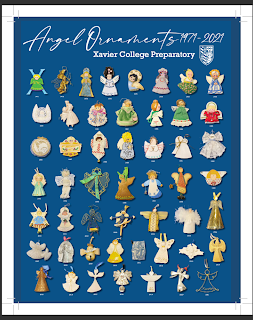 Maria Murphy-Fontes
Now that Thanksgiving has passed, many are welcoming the holiday season by decorating their homes with nativity sets, inflatable snowmen and Christmas lights. 
The Christmas spirit can be felt most present when those Christmas trees go up and families come together to hang up ornaments. 
For the past 50 years Xavier has had its own place on students' Christmas trees with the Christmas Angel, a unique and special ornament sold by the Mothers' Guild at Xavier's Annual Holiday Auction.
The Xavier Angel Ornament tradition was first installed by the then Boutique (now known as the Mothers' Guild) Chair, Diane Werts in 1971.
The Christmas Angels are always unveiled at the auction. The auction, hosted by the Mothers' Guild, raises money for students on scholarships.
Maintenance staff member, Martha Villela, has attended the Xavier auction since she began working at Xavier 18 years ago and said the alumnae relatives of present Xavier students come to the raffle and buy Christmas Angels. "It shows that everything about Xavier carries tradition."
Alumna Kathy Garrett has collected a Christmas angel every year since 1985. She says, "I keep collecting the Xavier Angels because they represent the wonderful memories I have when I was a student at Xavier in the 1960s.
As they are tradition, the Mothers' Guild wishes to make the angels as affordable and accessible as possible. They range from $20-$25 and about 200-250 ornaments are ordered every year.
This year marked the 50th anniversary of the Christmas Angels debut and thus a special limited edition Swarovski Angel was designed for a few lucky auction winners. 
Usually, the design is decided in the summer before the school year begins and this year the angels were handmade by an Etsy seller.
Unfortunately, the angels, like most traditions, become forgotten each year that passes. Their meanings and origins get lost behind the season's chaos.
Director of Mothers' Guild Events Maria Murphey-Fontes said, "Most Xavier girls are unaware of the Christmas Angel. Although it was originally meant for students, former alumnae make up the majority of buyers."
Since Xavier students are also not allowed to attend the auction, their only opportunity to buy the angels is if there is a surplus in the Gator Gear shop.
Fontes wishes that the Christmas Angel tradition continues for many more years to come and that current Xavier students come into the tradition to remember their time at Xavier in future years.
Garret said, "When we hang each angel on the Christmas tree it brings back funny memories of pranks we played, and the freedom to be strong women without having to play any kind of role to fit in with boys."