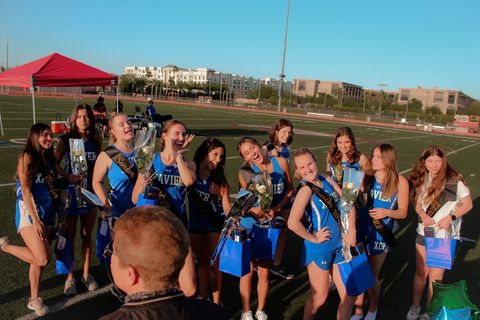 Track and field
Xavier's track and field team, in a sport that features not just one skill but a variety of adroitness in strength and speed and agility, displayed itself in unique events from running, pole vaulting and high jump to shot put and javelin. Although all athletes are each notable in their skills and stamina, a student to mention is junior Avery Allen, whom head coach Dave Van Sickle says could be the first pole vault state champion for XCP with a 12-foot vault. For the 3200, or two miles, Hannah Wheeling  ranks 10th in the state with a time of 11:39.90. In addition, Xavier is 3rd in the 4×400 and 2nd in the 4×800, which are both relays of fours runners, each running 1 lap or 2 laps.
"The XCP track and field team improved this year to the point where it became a very well-rounded team, not just a power in distance like previous years, but especially strong in sprints, hurdles and jumps. We have top throwers, and our relays will finish better at state than ever," said Van Sickle.
We love and accept all constructive criticisms. We also like to hear what we did good; it's a great confidence booster!