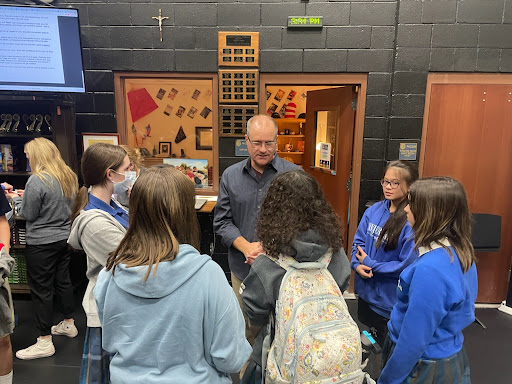 Matilda workshop conquers the fear of auditioning
When thinking about auditioning for a school musical, the first thing that normally comes to a student's mind is the fear of not being good enough. These self-doubting and degrading thoughts pull students and young actors away from achieving their full potentials on stage.  
In order to get rid of the anxiety and panic that come with a play audition, Xavier College Preparatory held its very first audition workshop for the upcoming spring musical, Matilda. 
Mark Stoddard, director, said, "We wanted to create a low-pressure workshop where the music director and myself will work with students to give them some tips and answer any questions the students at the workshop may have."
The workshop gave students the chance to watch a mock audition performed by Ashley Stelnick and Micheal DeBarros, while everyone else in the audience pretended to view them as directors. 
Stoddard explained that the students observing the mock audition gave feedback while the demonstrators took suggestions on what they could do to improve different aspects of their auditions.
One of Xavier's drama club officers, Anne Kopp, said, "Auditioning can be very nerve-racking, but giving students the opportunity to see what an audition is like and showing them that everyone gets nervous are great ways to calm those nerves and get them excited about the show." 
Heading into an audition with confidence will not only show the directors that an actor is prepared, but it will also show how well an actor can work under pressure. 
"It's totally like trying out for a sport's team. The coach wants to see what you have to offer, so even though you might not be the best athlete, he or she is looking for certain players to fill certain roles on the team," said Stoddard. 
In addition, the workshop focuses on the crucial role of music in the audition. Music director, Joshua Condon, helped students learn how to take a part of a song and convey a story within 30 to 60 seconds.
The directors are looking for actors who can sing as well as perform well on stage. Just because someone is a good actor and singer, however, does not mean she is a shoe-in for the show. 
Besides being able to sing and act, the directors are looking to see who can dance and who has a genuine personality in the audition. 
"It's not about a perfect performance; it's about us getting to know the performer," said Condon. 
By hosting this workshop, both Stoddard and Condon were hoping that students would conquer their fears of auditioning while making them realize the importance of the relationship between the actor and themselves. 
An audition can be a stressful and anxious process for almost any student. Instead of letting the idea of not being good enough stop an audition. Actors are learning that everyone is scared and workshops can help alleviate that.
We love and accept all constructive criticisms. We also like to hear what we did good; it's a great confidence booster!