Xavier introduces new donor organizations
Two new societies honor members of the community who give generally to Xavier.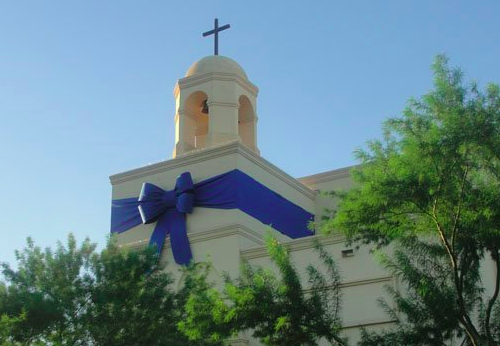 Hang on for a minute...we're trying to find some more stories you might like.
Legacy is a common theme at Xavier, and it's something that is obviously important to many Xavier students, faculty and alumnae. Next year, Xavier will be celebrating 75 years of legacy.
75 years of hard work, of women of faith pursuing excellence, of celebrating the differences of their students, of coming together to create something beautiful: community.
The Xavier community is something that you can never really forget or leave behind, and I truly believe that once you're a part of it, you're in it for life. It has a strong sense of unity that other schools lack, and it's because of this that it's such a difficult community to forget.
In the spirit of community and the Xavier family, Xavier is proud to announce The President's Circle and The President's Circle Lifetime Society, both of which recognize Xavier alumnae, past parents, parents, community partners, friends, grandparents and foundations that have inspired and generously helped the Xavier community grow into what it has become today.
The President's Circle's goal is to have the entire Xavier community support the students of the school and to support Xavier's mission. It hopes to renew members each year and to involve as many people as possible. The members will be expected to act as ambassadors of the school and recruit others who are interested in becoming members as well. The President's Circle will also help create financial security for Xavier and fund the necessary school advancements.
To become a member, a cumulative contribution of $5,000 over the course of a fiscal year (July 1 – June 30) is necessary. It's also a requirement to redirect your Arizona state tax dollars, or a portion of your allowed tax dollars, to Xavier. The rewards of membership do not make a short list. Being a member of The President's Circle means access to exclusive President's Circle events, an invitation to the President's Circle Recognition Dinner, a preferred table at X Breakfast and VIP benefits and special recognition at the Mothers' Guild Holiday Dinner and Auction and Scholarship Fashion Show. A personalized membership card will allow you free admission to all Xavier regular season home sporting events and theater/fine arts productions.
Along with The President's Circle, Xavier has recently inducted 88 new members into The President's Circle Lifetime Society: "the most prestigious giving society." The members support Xavier in preparing young women to face the daily challenges in today's world with skill, intelligence and integrity.
The members of The President's Circle Lifetime Society have donated $100,000 or more, and their investments have helped Xavier tremendously in becoming the kind of school it is today.
Unlike The President's Circle, state tax redirection is not a requirement, although it is appreciated. The benefits of this membership aren't much different than The President's Circle, other than the amount of public recognition received as a member of the lifetime society.
Xavier is extremely excited to announce these two donor recognition societies, especially since our success as a school comes from the generous help given to us by the Xavier community.