Bringing it to the round table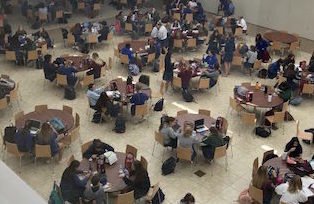 Hang on for a minute...we're trying to find some more stories you might like.
Xavier students are regularly reminded of Xavier's motto, "Let's be friendly," commonly referred to as LBF, as a way to create a safe and welcoming environment for everyone in the Xavier community.
Recently though, some parents and students have questioned the layout of the round tables during lunchtime and break in Founders Hall and whether this format discourages an inclusive environment.
Sister Lynn Winsor, BVM, explained the reasoning for the tables, "The round tables are better for communicating with people so no one feels left out of the conversation. Also, they are better for events, like the X-breakfast, and overall, much more conducive for communication."
One freshman mom, who prefers to remain anonymous, expressed her concerns after her daughter told her that girls were being excluded because of the eight-person-to-a-table rule. She said, "The school authority told these girls to exclude someone, to remove one of them from the table—they had plenty of room. So one girl was left out." She went on to say, "I think this rule sends a negative message, promotes exclusivity and flat out contradicts the 'Let's Be Friendly' motto."
Round tables of eight may encourage cliques and social group formations that make some girls feel like they are on the outside. "The idea of lunch groups are really prominent at Xavier and each group's dynamic is unique so moving to different lunch groups can be intimidating and uncomfortable sometimes," said Xavier junior Bebe Katsenes.
Several students choose to not eat in Founders Hall during break and lunch and enjoy their snacks and meals outside. "My group chooses to sit outside because Founders can get really crowded and loud and it's nice to get fresh air when I'm not in class and the weather is cooler," said Xavier junior Lily Castle.
Although some people believe the tables encourage exclusiveness and groups, many girls who sit in Founders Hall during lunch and break enjoy the table set up. "The round tables make it easy to sit at the same table every day and we have a lot of space to ourselves. And I just know who I am going to sit with at the same spot everyday so it makes it easier," said Xavier junior Johnnie Mitchell.
The varying viewpoints of the Founders Hall layout has parents and students examining the alternatives to promote the LBF motto. As the same freshman mother reminds us, "The Xavier community is filled with people with great ideas and the resources to help Xavier continue to be the wonderful Catholic environment which creates strong, smart, loving women for others."
Survey Question:
Do you like the eight-person-to-a-table rule at the round tables in Founders Hall? Yes or no? If no, why not? What are the alternatives to make a more LBF environment in Founders Hall?
Comment below to share your opinion!