A beginner's guide to the German language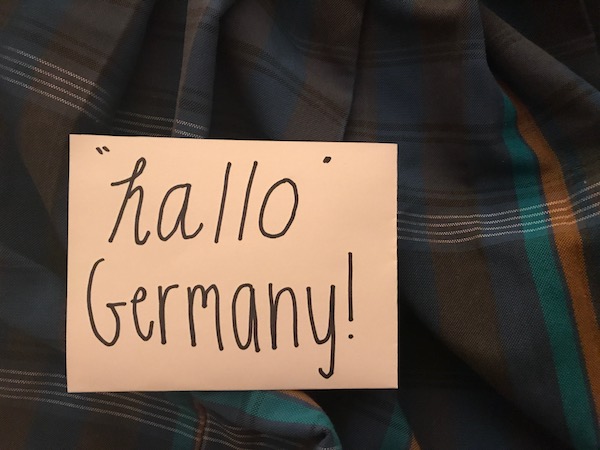 With the German Exchange Program in full swing, the Xavier students participating in the program are cramming in their German studies before the visit to Germany in a few months. However, the German language can be tricky with a new alphabet and pronunciation different from English.
However, with this short list of tips and tricks, any Xavier student can be on their way to learning the German language, with a few unusual words in between.
Kate Straneva, a senior participating in the German Exchange Program, said that, "I basically knew no German going into the trip, but my exchange partner, Jule, was able to teach me some basic phrases. The German girls have incredible English which made it really easy to communicate. I'm looking forward to going to Germany and learning more of the German language and culture."
The Xavier students travel to Aachen, Germany, located between Belgium, the Netherlands and Luxemburg. Their German counterparts arrive in mid-October while the Xavier girls fly to Germany in early February. While in Germany, the students will attend school, sporting events and cultural activities.
Just like Spanish or French, many German words are similar to those in English. Especially in Arizona, the phrase "air conditioning" is used with high frequency. In German, "air conditioning" translates to "die Airconditioning" (BBC). Pretty easy, right?

As for tongue twisters, the German language is filled with them. It actually seems like the whole language is a tongue twister to any English speakers. Try saying this one: "Brautkleid bleibt Brautkleid und Blaukraut bleibt Blaukraut" (Fluentu). With so many b's, and the hidden br's, this twister is bound to stretch all of your mouth muscles. In translation, this means "A wedding dress will always be a wedding dress and red cabbage will always be red cabbage."

In all languages, showing politeness and respect is expected. In German, address men using "Herr" or "Mr." and women with "Frau" or "Mrs." (BBC). In a formal situation, a firm handshake is conventional. In a more casual situation, a simple "Hallo" (Hello) potentially followed by a quick kiss on the cheek is more common among women (BBC). For men greeting each other on the street corner, a firm pat on the shoulder is normal (BBC).

Here are a few common phrases to use: ja (yes), nein (no), bitte (please) and danke (thank you) (Dummies). For a very common question, "Where is the restroom?", say "Wo ist die Toilette?" (Translate.Google).