Ben's Bells promotes intentional kindness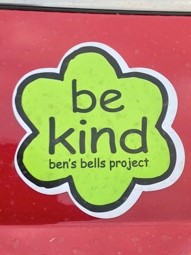 Hang on for a minute...we're trying to find some more stories you might like.
Research has proven that intentional kindness is beneficial for people of all ages. A charity based in Tucson was developed to purposely spread kindness to benefit others. The goal of Ben's Bells is to inspire, educate and motivate people to realize the impact of intentional kindness and how it positively affects people, relationships and communities.
Jeannette Maré, founder and executive director of Ben's Bells, said "Kindness is powerful and strong and vital." Handmade bells are created by volunteers to be a constant reminder of the beauty and personal enrichment of intentional kindness. Once the bells are assembled, they are placed around the community, attached with a kind message and ready to spread kindness to all who find the ornament.
Maré explained her motivation for the creation of Ben's Bells by saying, "The simple kindness of strangers and friends sustained me and my family after our son, Ben died, just before his third birthday. Inspired by these gestures, we created Ben's Bells, a community project that encourages, celebrates and teaches kindness." Through her tragedy, Maré learned that intentional kindness helped her get through an extremely difficult situation.
The Ben's Bells program has a school based outreach program called Kind Campus, that educates students, families and faculty about the importance of kindness inside and outside of the school environment. Junior Katherine Thomas said, "Intentional kindness adds so much to a community and I think it would brighten up Xavier as a campus so much if it were more purposefully practiced." Similarly junior, Maddie Dinowitz, explained, "You never know how someone might be feeling inside, and a few kind words can make a huge difference around our campus."
Interested volunteers are encouraged to visit the Ben's Bells studio in downtown Phoenix to create the beautiful bells for the purpose of spreading kindness around the community.