Consider taking Xavier's College Level Accounting class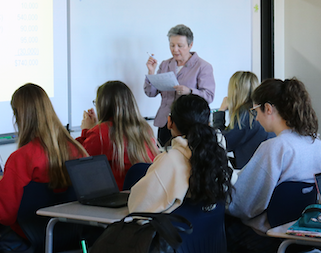 Xavier students are very blessed to have so many academic opportunities at their fingertips. One such opportunity is the ability to take college level classes. College Level Accounting is one of the most popular classes for those students looking to learn more about the financial, business and economic professions.
As a full-year elective, the Accounting class dives into advanced financial topics. Some of the main topics covered in the class include managing a ledger and journal entries, creating financial statements and budgeting.
There are extensive real-world applications of topics in the Accounting class, which is always rewarding for students who take the class.
Senior Sofia Levy is taking the course now and says, "I like the class because I get to learn about accounting and financing skills which have a real world application."
Students interested in entrepreneurship, management, accountancy or any other major financial career should especially consider taking College Level Accounting. However, as accounting is a skill that all adults need, it is a great class for anyone. The teacher, Mrs. Barbara Bond, makes class interesting and informative so all students can get the most out of the class.
Levy says the curriculum is very helpful, especially in senior year as she is planning college and life after college. She said, "This class will help me in the future as I strive to have my own business because I will have the knowledge of analyzing and keeping track of financial data."
Many of Xavier's courses are designed to help students apply themselves in the real world. Consider taking the College Level Accounting class and prepare to tackle finances after high school!