The Political Power of Celebrities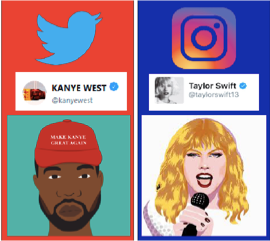 Hang on for a minute...we're trying to find some more stories you might like.
In modern day American society, celebrities have a surprising amount of influence over fashion trends, music, and even over the impact in the political realm. Celebrity endorsement of products can compel us to run to the store to buy their recommended product and their political advice can make or break a campaign. Examples of celebrities cheering on candidates include Beyonce, Oprah and almost all of Hollywood, campaigning for President Obama and even Kanye,  A recent pop culture icon, visited President Trump in the White House wearing a "Make America Great Again" cap. These celebrities are so familiar to us we can recognize them just by their one name. Regardless of the political view, a celebrity can truly influence the fans to take a stand on certain actions and often validate important causes. For example, celebrities post pictures of themselves with a voting sticker and encourage their fans to take to the polls and vote, hoping to influence people to become involved in local and national elections. The political world is not unaware of this type of media coverage and time and time again, political parties have hired celebrities to attend their parties and post about their opinions to try to improve votes for their candidate. Pop star singer Taylor Swift posted comments about how she voted in her local Tennessee election. Swift has rarely, if ever, aired her political opinions during her lengthy career, but she was moved to say that she was backing democratic candidates in the local Tennessee elections because she feels it is best to vote for candidates that support human rights. This post received over two million likes and the vast majority of those instagram likes rolled in within hours of Taylor Swift's post (glamour.com). Some celebrities choose to remain silent about their political affiliations but others choose to speak out such as young political activist Yara Shahidi. Shahidi is only eighteen years old and has already started her own platform called 'Eighteenx18' which focuses on engaging younger Americans in the voting process and urging them to contribute to the dialogue of politics.
Regardless of whether celebrities choose to use their notoriety, they possess the power to change the conversation and make an impact. Whether or not you feel that a celebrities' opinion about politics matters, they do.