Xavier traditions: Student Council's annual tree lighting ceremony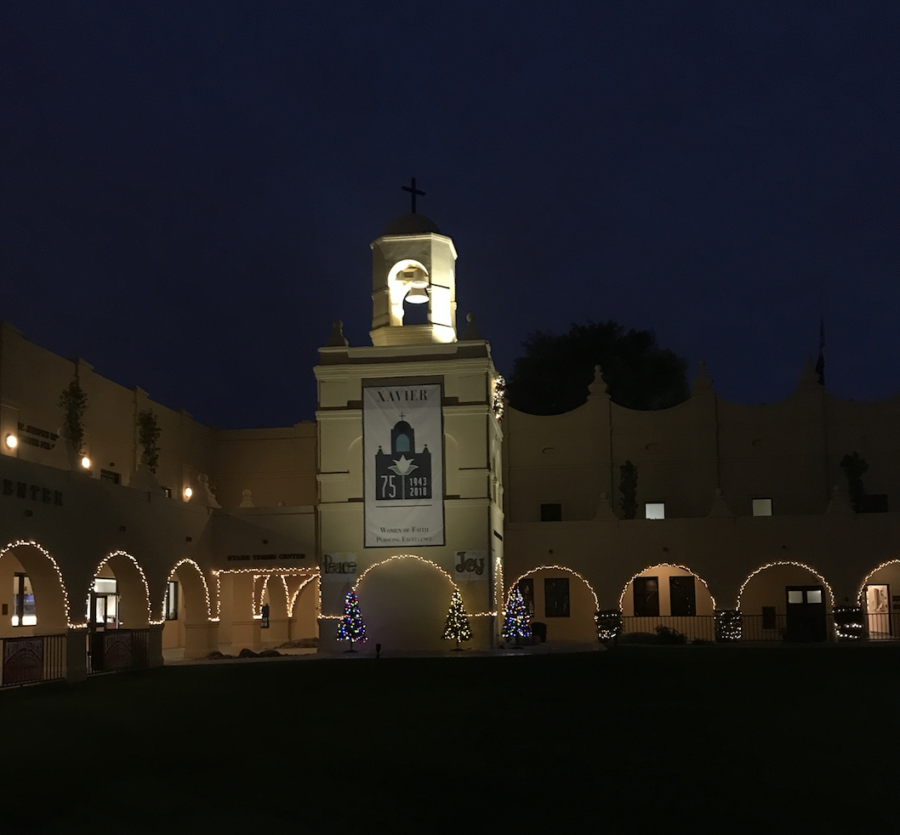 For 26 consecutive years, when the air gets crisper and sitting outside for lunch gets (much) colder, the Xavier Bell Tower is eventually adorned with four christmas trees of pink, yellow, green and red, each representing each gradelevel's christmas cheer and class spirit.
The actual decoration of this holiday display is a long-held tradition for Xavier Student Council. Braving the chilly weather in their colorful and comical Christmas sweaters, these ladies adorn the school's campus with a healthy dose of holiday spirit. This year, there was the added challenge of a downpour of rain, but nevertheless, the tree decoration persisted.
Every year, as hot chocolate flows and carols are sung, this early morning tradition gives the four student councils a chance to bond. Senior Student Council Secretary Marybeth Bonner says, "my favorite part of the morning is before school starts when we are all wearing our ugly christmas sweaters and singing and dancing to Christmas music. It is such a happy environment to be in even when we are freezing outside. It gives us a chance to bond as a whole group."
For the ladies of Xavier "Stuco," the tree lighting ceremony is a coming together of community and friends and represents their unique importance to the Xavier network. The decorated trees are donated to local families in need after they have been displayed on campus and the Xavier community leaves for Christmas break.
Even students new to this tradition, who are thus experiencing their first year on student council, greatly anticipate the honored occasion. Senior Student Council Senator Johnnie Mitchell comments, "I've seen [the event] happen for three years, so to be able to take part in it during my last year of high school will be really special for me and a nice memory to leave high school with."
Xavier is a school full of traditions, which actively knit the student body, faculty and staff together. The annual Christmas tree lighting is one of the most joyous of such traditions, and Student Council is proud to call the ritual their own.